Today i had Pizza and i don't care!
And No! It is not my favorite Food!
To save us from my sister's dreadful cooking, we ordered Pizza from our local Mom & Pop Italian Restaurant,
Angelo's.

I remember i used to always come here. I haven't had their pizza in a while and managed to convince my sister to order it rather than buying some fake franchise cardboard "pizza" and making the pockets of those greedy assholes bigger, sorry.
I remember this pizza being really good but then again, it was pizza and i was a little kid so...yeah. Sadly, like so many other's have said before, L.A pretty much sux when it comes to pizza, and this just furthured their argument.
The slice was 85% crust, and 15% toppings.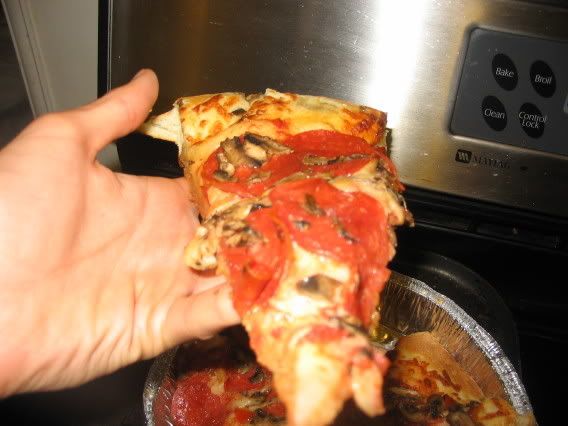 I mean, damn... i usually like the crust but this was way too much. Very dry, dense and thick. Almost like a mexican
birote
One slice probably accounted for 4 or 5 servings of grain. And being that, i still ate 2 slices. Even though, one was more than enough. The ossified cheese did have a nice richness though but I like my pizza heavy on the sauce, not heavy on the dough.(by the way the sauce wasn't that good neither). kinda made me feel bad since i was the one that suggested it. So far around here, the best place to get a decent pizza continues to be
Rios Pizza
in Monterey Park.
Angelo's
1540 West Valley Boulevard
Alhambra CA 91803
Ph. (626) 282-0153