Like I mentioned in
a post about a year ago
, going to college is still NO EXCUSE to eat haphazardly (half-ass-ardly)...ever.
One more month until this super full-time semester is over. And in the midst of writing 10 page
Memoirs
for my
Creative Nonfiction
class, producing whole paragraphs in
Mandarin
and
parrying
Foil
swords in
15 touch, whole-day long Fencing Tournaments
at UCLA...I still make time to eat well.
Here is what I mean...
(Oh, and my little sister got a camera for her birthday, meaning I basically have one now, hence the use of pics)
Sunday Nov. 9: The 22nd Annual Great Chefs Event of Los Angeles
It was a beautiful day, maybe even more beautiful for me due to the fact that I went with a
certain someone
that I've...wait, sorry. Anyways hmmm, oh yeah...food, a certain type of magic happens when chefs of such caliber come together for a good cause. As is the case in this enchanted afternoon. Local, seasonal, fresh, flavorful...everything that makes up the signature
Los Angeles Standard
.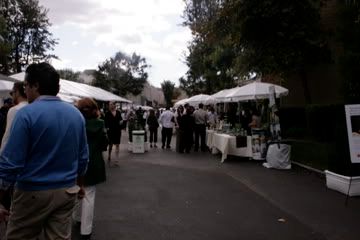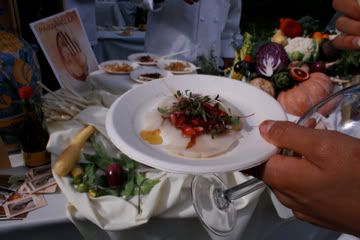 (photos: Julia Hasenbein)
Smoked Scallops with pomegranate from
Tanino Ristoraunte Bar
.
Wed. Nov. 12: Suckling Pig Dinner with Fooddigger at Fords Filling Station:
In honor of the
Bizarre Foods
episode here in L.A, the considerate people over at
Fooddigger
hosted a dinner to re-enact the scene from the show. Fooddigger is an up and coming foodie guide with one of the most reliable methods available to find out about a restaurant. Fried eyeballs stuffed with ham hocks, roasted pork butt and all...a lovely experience. Especially, when combined with a bunch of other foodbloggers (
Mattatouille
,
L.A-O.C-foodie
,
Food Destination
,
Dig Lounge
,
Gourmet Pigs
) not to mention a humble Ben Ford himself.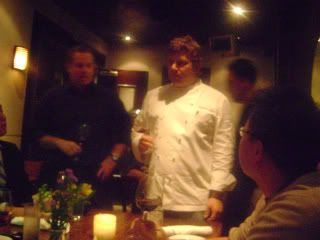 A joyful Ben Ford (happy because not that many people eat like this anymore)
From snout to tail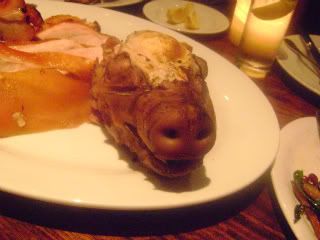 Little Piggy #1
Nov. 20-23: 3 Day Meditation Retreat with
Edward Espe Brown
at Green Gulch Farm Zen Center
Sitting in meditation from 6AM to 9PM sure does rouse up a hefty appetite...
They serve up 3 full vegetarian meals a day (a lot of the time incorporating the stuff they grow themselves)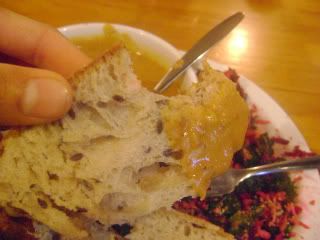 Fresh baked bread was dunked into the daily soup, daily;
Spelt Levain
with their enticing Cardamon spiked
Yam Soup
and
GGF Kale Salad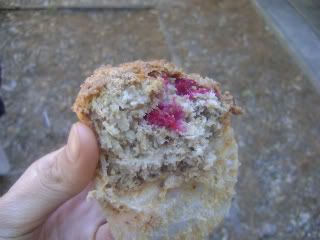 Fresh baked
GGF Cranberry-Apple Everything
Muffins served after the Sunday Dharma Talk
And I finally got a chance to stop by
Cafe Gratitude
, courtesy of some older lady I met over there who gave me a ride back to the Greyhound station.
Cafe Gratitude
is this raw, vegan and whatnot place up in the Bay area. The point of interest though is the way to get food here. Everything on the menu is an affirmation. So instead of saying you want a 'Rawsagna' or any other of those cheesy "raw" puns, you have to utter out
I am awakened
(Key Lime Pie) or some other affirmation-named menu item to get any food here.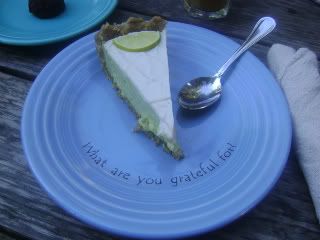 I was definitely feeling
awakened
after eating this. Gotta give it up to the creativity these guys put into reenacting food, food. This thing was made using the creamy, buttery characteristics of an Avocado but taken over the savory threshold finally; sweet avocado lime custard. Mmmm.
And then there was the
Jungle Food Marathon
. Man...I wish I had time to do a complete post on this. This was one of the best events in my life thus far. Seven hours of eating tropic bounty + seven other food aficionado's = Good times 'a plenty.
Nkechi African Café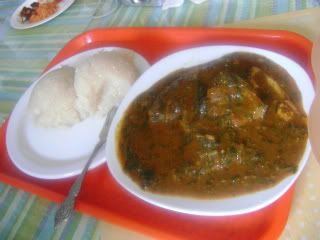 Ogbono
soup with fish that had this "going-sixty-on-a-dessert-road-somewhere-and-suddenly-getting-a-flat-tire" smokiness to it and the texture...think the biggest loogie you ever hocked up. That stuff next to it was
ebi
fufu, a ball of starch made from raw Yucca/Cassava/Manioca; bitter.
El Rocoto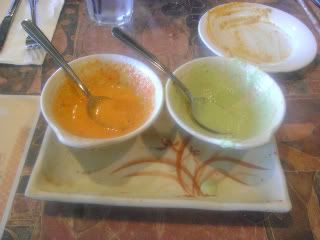 Aji Verde y Rojo
. Peruvian pepper'ed Salsa's emulsified with egg. Need I say more?
Siem Reap Asian Cuisine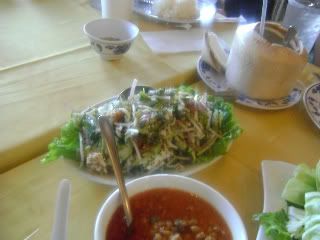 Sadao leaves and fish salad
Bitter, bitter, bitter! Actually a medicinal herb but still one of my favorites for the day.
Quan Hop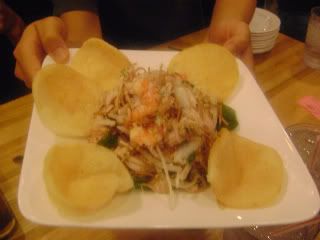 Jack fruit Salad
.
Meaty. This place was not your typical
Bun and Pho
place. They have some fine, top quality, intricate Vietnamese cuisine a step above many others, albeit small portions.
Nuoc Mia Vien Tay
Fresh Sugar Cane Juice with Kumquats
Perfect ending to the night. What would of been cloyingly sweet otherwise was brought to a whole other dimension with the tongue-numbing acidic citrus of Kumquat Peels. I rationed it by eating every single ice cube in the cup. Simply amazing.
Oh, and
my band
wants to get back together again so I've been with that too.
I was supposed to play that night at some house in Montebello, and found one of these bad boys there. SPECIAL cookies, and they were made from scratch!!! A nice change from the usual vehicle of a brownie...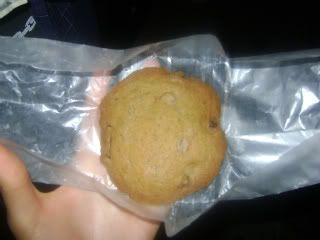 Chocolatey,
toasty, herbaceousness...ha,ha,ha,ha...