When I was barely getting into the game of food, the anthropology of food through time via different cultures was the one thing that interested me...and still does diligently to this day. But, at the same time, the subject of
Molecular Gastronomy
also impressed me, only acting as a booster to my passion for food. I mean, it looked cool as hell...I wanted to eat Liquid Nitrogen! But never having personally experiencing it, I didn't really know too much about it in actual life.
I found out exactly what it meant through the C.I.A textbook-requirements of
On Food and Cooking
by Harold Mcgee and first heard about the praised execution of it on this L.A Times food write up. This José Andrés fellow out in D.C or something?
Never having Satellite or Cable, I binge-watched Food shows on Saturday afternoons (12-5) shown on Public Television. For 3 years already, I never missed the Spanish accented "Wowwww"'s of the jolly José Andrés, on his show "Made in Spain".
And thanks to the giving, god-like thoughtfulness of
Will Chi from Fooddigger
. I have just experienced enlightenment in the form of niftily executed sustenance.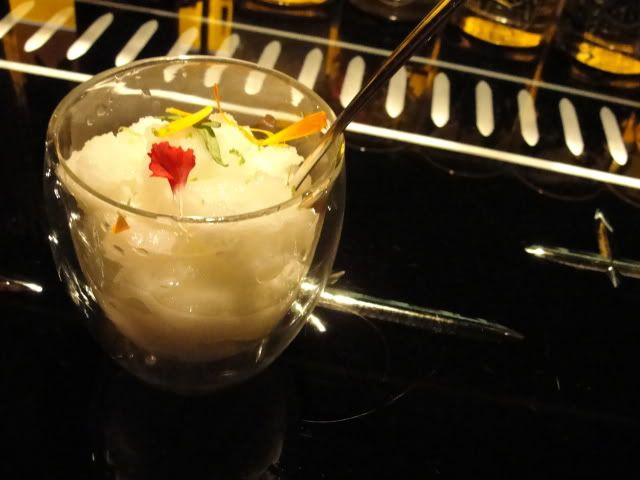 First 'wow' of the evening was his famous
Liquid Nitrogen Caipirinha
. Based SOLELY on olfactory and sight senses, it was stupefyingly creamy, given that it was quite potent and in theory, unfriezable. There was this guy with a little cart full of Liquid Nitro and went around catering to whoever ordered. made me think that it would be cool if someone sold Liquid Nitrogen Ice Cream through a cart in the street, ha, ha.
After hanging out in the bar for a while, we were finally escorted to the room that is actually
Saam
. A small room within the
Bar Centro & Bazaar
, his other main restaurant, my version of a Bodhi tree this evening, serene, warm, for the more serious diner who is ready to get out from the cycle of loudness, flashiness and other smokin' cute...but material pleasures.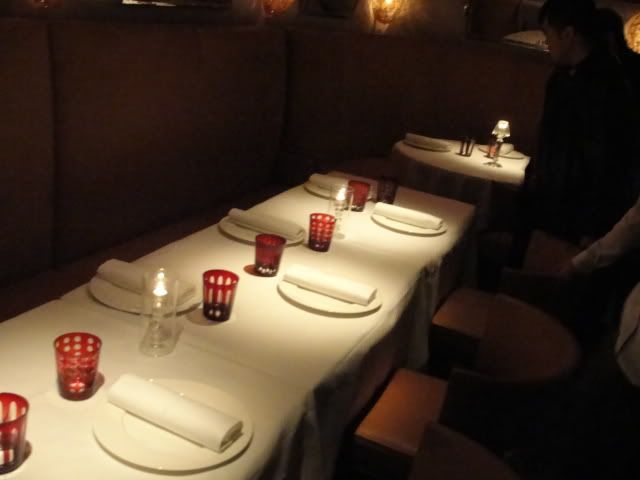 We were in and the first offering was set upon us.
1st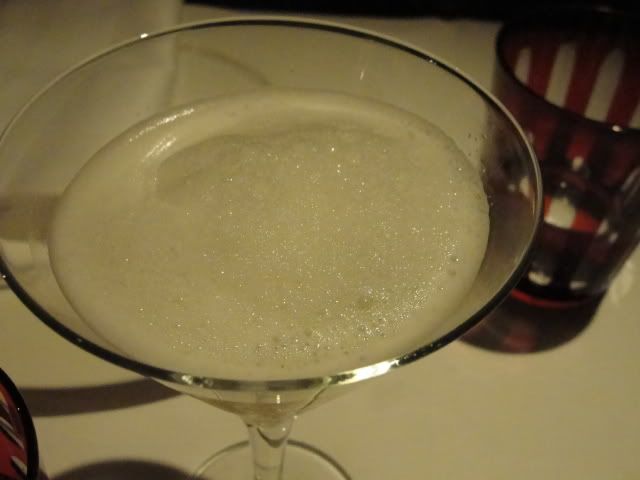 Salt Air Margarita
with Salt-Lime Air.
It was interesting, salt and tequila go way back, it was nice to finally not have to taste, I mean smell, the granulated salt. Still played the same role, took out the ferocious zing of Tequila.
Not long after our first 'snack'--as they called it--landed on our table.
2nd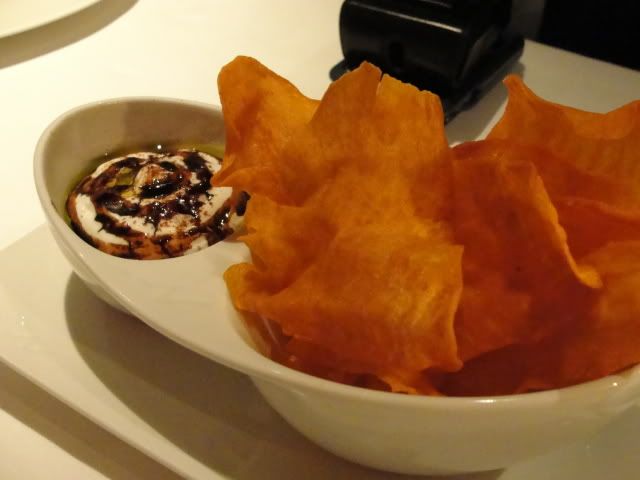 Sweet Potato Chips
with a Greek Yogurt Foam, Tamarind, and Star Anise.
The chips by themselves were ethereally crisp and thin by, not greasy or fried-tasting whatsoever, almost like an Indian Lentil-flour Papadum. The yogurt foam was rich, but airy. And well, star anise is star anise, Tamarind added interesting tart compounds to it.
3rd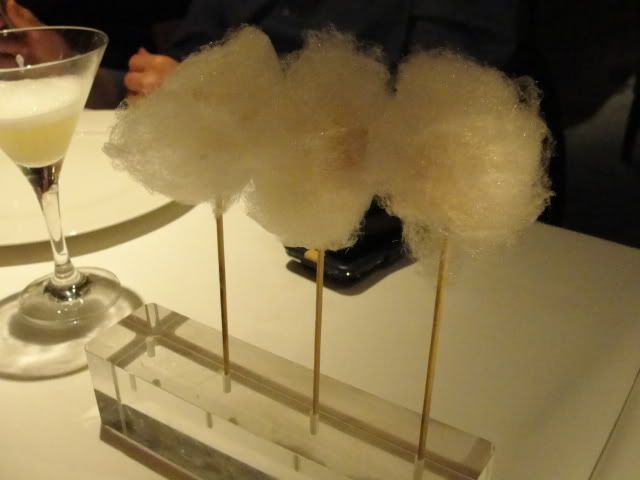 Cotton Candy Foie Gras
I've really only had Foie Gras a handful of times in my life, usually extremely diluted with something else. I always related the flavor to an ugly cousin of Bologna or something, But THIS was completely something else. Transcendentally smooth and creamy in the most lipid of ways, and no elementary school lunch-y flavor at all. The cotton candy was interesting, adding the necessary sweet element to cut the richness in the most subtle of ways, almost like the if it wasn't there. It did it's job but also didn't get in the way of what is the marvel that is Foie Gras.
The art of Terrine Cotton Candy making: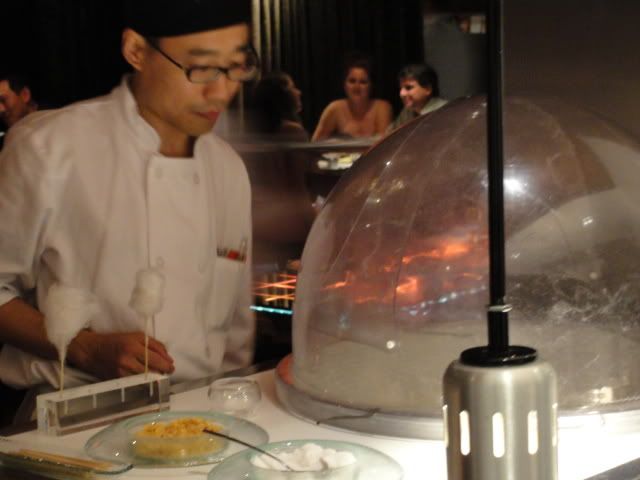 4th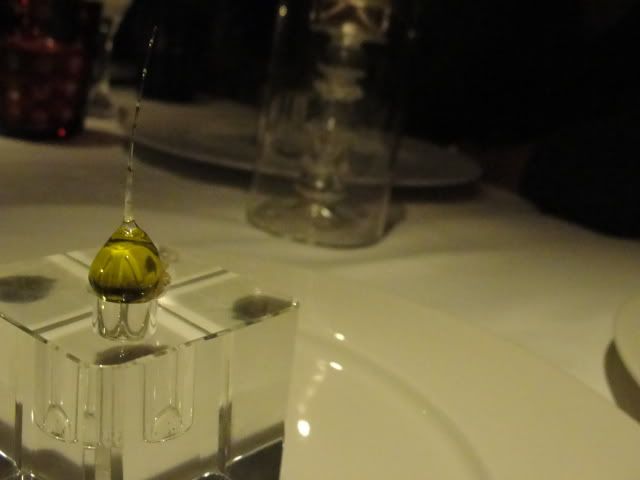 Olive Oil Bonbon
This was interesting. Olive Oil encapsulated with
Isomaltose
, a sort of 'ose' meaning sugar element involved. Don't know exactly how that works but definitely went with the 'fun' Bonbon factor, tasting of full-bodied, fruity olive oil, especially with the dried sour berry powder aka as Sumac and
Maldon
Sea Salt sprinkled underneath it.
Somewhere between all this, this guy was brought to our table. One of the most 'nicely smelling' Vino's I've had the pleasure so far, of deep caramel and buttery tones, rich wine for rich foods.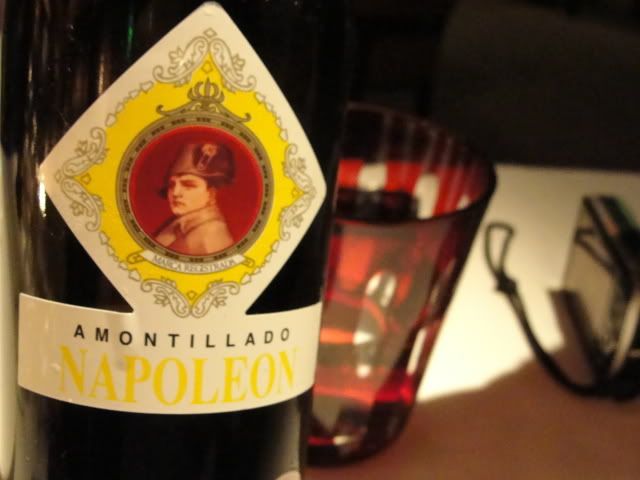 5th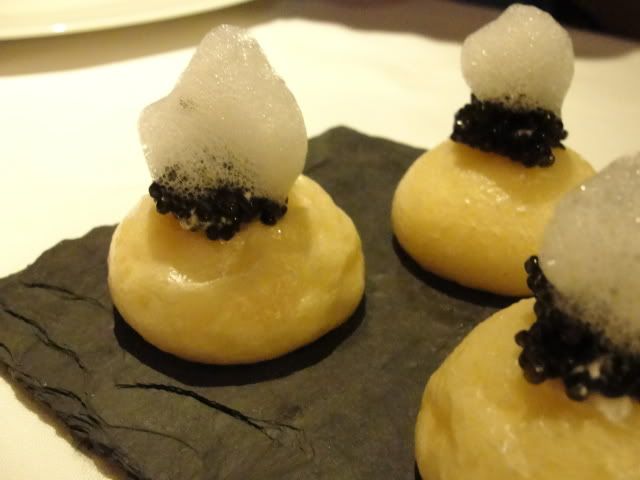 Caviar Steamed Bun
with Crème Fraîche and Lemon Air
Bao
? Served here eyy? Coming straight up from
Char Siu Bao
hood', I couldn't wait! The Crème reminded me of a tarter version of the Golden Cream Buns that are norm during Dim Sum. This was actually my first time having Caviar so don't know what to compare it to. From a beginners mind, it was nice, not as fishy as I thought it would be, with a unique texture not experienced anywhere else, very sparse, lemon air did the usual magic that lemon does with things from the sea.
6th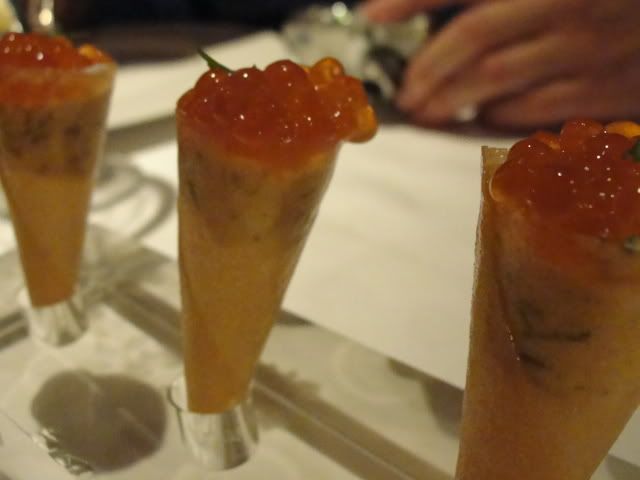 Bagel and Lox Cone
with Dill and Crème Fraîche
This was held together by this traditional french pastry crust stuff. Crispy, thin and transparent. This roe was a bit nuttier than the earlier stuff, not a very sturdy smoked flavor but innately there. Great textural contrasts.
7th
Olives Ferran Adria
(Liquid Olives)
Olives of the finest quality, but, carried out in flawless liquid form. Named after the renown, innovative chef in Spain whose restaurant is only open like 5 months out of the year or something like that. The 'olive juice' was marinated with Rosemary, Garlic and orange peel. It is mixed with
Sodium Algenate
then dipped in a Calcium bath to create a super thin pliable film, made for an intense explosion of luxurious, all-around mouth filling properties. Mmmm...food chemistry.
8th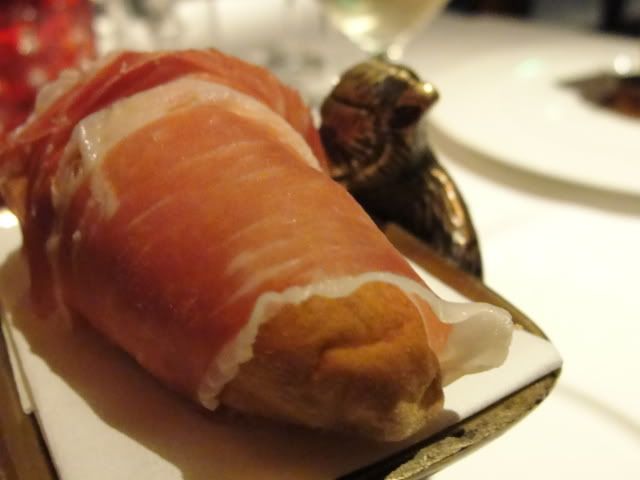 Jose's Ham & Cheese
with Air Bread, Jamón Ibérico de Bellota and La Serena Merino Sheep's Milk Cheese.
A cheese coagulated from the pistils of Artichoke.
The combination of all these worked wonderfully. The air bread tasted like a bread made from solely the crust of a roll. Inside, was the creamy Brie-like consistency of the nutty young cheese. The Jamon is from pigs that naturally have a hankering for chestnuts, so, quite the satiating bite to it.
9th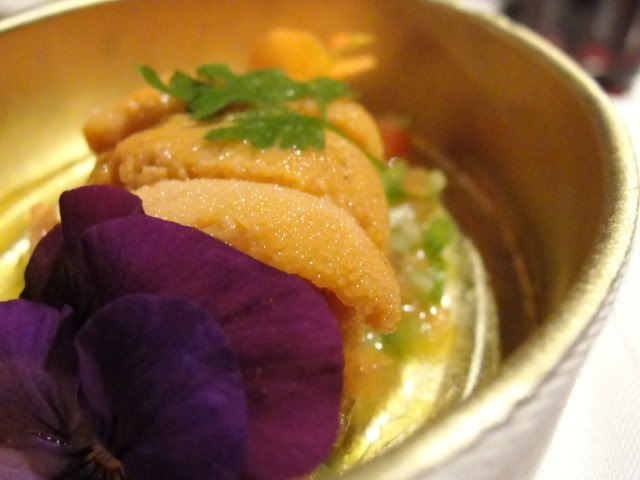 Sea Urchin Conservas
Every dish aforementioned had the word "rich" in there, but this was something far above that. The
Pico de Gallo
-like minced salad of
Pipirrana
(tomatoes, cucumber and onions) and edible flowers helped make a slight dent in it's richness sheen, but just an unstoppable powerhouse of rich and strong flavor. I've only had
Uni
once in life before, and it's creamy? smooth? No, much more than that, must meet with it more times to get a better understanding of it.
10th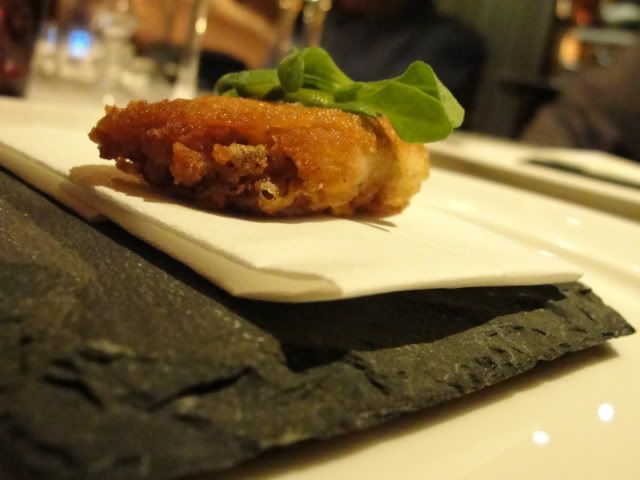 Boneless Chicken Wing
Average looking but a stand out as far fried fare goes, eloquently spiced and topped with an olive puree and tiny
Ice Plant
leaf, didn't add that much noticeable flavor against all that good 'ol greasiness, and kudos for doing the tedious work of deboning without ruining it's shape.
11th
Shrimp Cocktail
(Santa Barbara Spot Prawn actually)
Very few perfections come close to that of perfectly cooked shellfish. Amazingly sweet, whoa, swoon. Probably the funnest things to eat of the night, as you put the shrimp in your mouth...squish, squish! Never thought I would be 'shooting up' cocktail sauce in between my tongue, ha, ha.
12th
Nitro Gazpacho
The classic chilled Tomato soup but treated with Liquid Nitrogen again. Made for a quasi-
Slurpee
consistency, melting really fast. Tomato tangy-ness left whole, the air bread pieces on top reminded me of emptied out oyster crackers and added nice snap, crackle, pop.
One scoop of tomato slushy coming right up!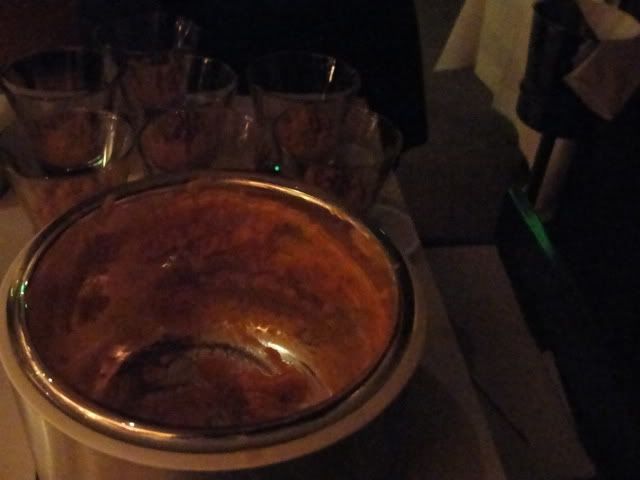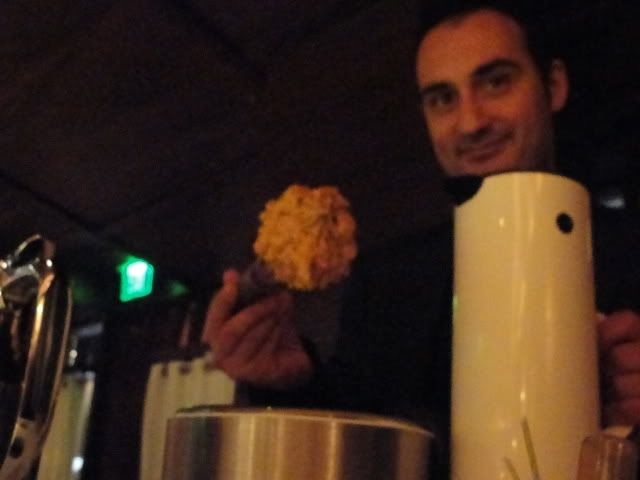 13th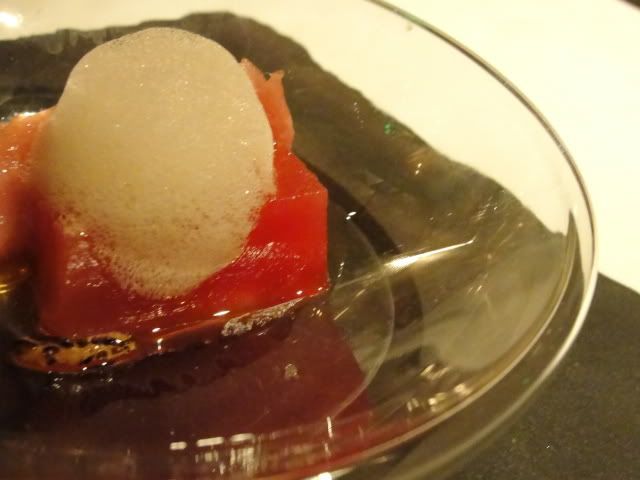 Blue Fin Toro
with quail egg, compressed watermelon, sushi rice vinegar, soy air, Wasabi and 3-4 grains of puffed rice.
Although staying with it's traditional Sushi flavor roots, this dish had A LOT going on. Naturally, the Toro was total godhead material, along with the deity of quail egg (cooked accurately at 63'C to retain runnyness of yolk), it was almost unreal. The compressed watermelon was like eating the heart--dead square-inch center--of the most juiciest, sweetest melon in the middle of summer. Super nice comparisons. The rest of the ingredients only carried out these two supreme beings.
14th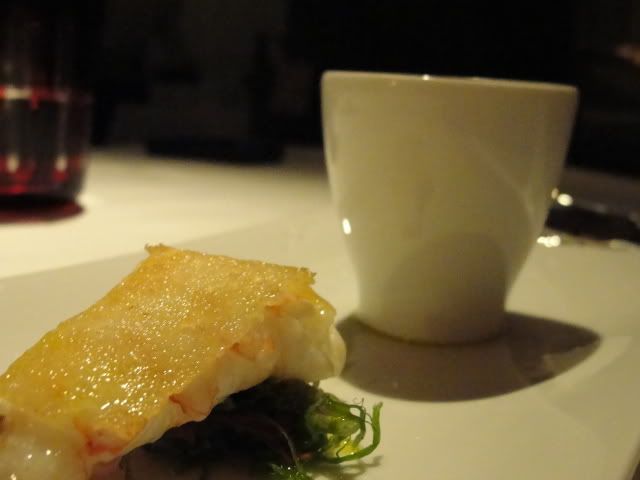 Norwegian Lobster
with Sea Beans, Seaweed Salad and Toasted Bread. Served with Lobster Head Bisque
Just as expected, also cooked perfectly. Buttery, and again with that miraculous sweetness reminiscent of the earlier shrimp, it's a trip how sweet these things were. The salad had the same breed of seaweed of those sweet salad ones they have at Sushi places and the bread--or only top crispy buttered part--of bread doing it's contrast thaang. Broth was seafood lovers dream, briny and tasting of full-on ocean, I'm talking deep, deep sea stuff.
There were already a bunch of cocktails floating around but these babies were the only ones that I did my work on.
From foreground to back:
AGAIN, based solely from olfactory senses...
Passion fruit Martini
: Crisp and bright tasting (real passion fruit not syrup?), especially with those Coffee Bean Nibs on top.
Uva-Bella
: Jeez, so much for tolerance. But according to
Kevin
who was all the way on the other side of the table it was an off the menu thing: muddled grape, Hendrick's gin, St. Germain--French elderflower liqueur, lemon juice, orange bitters?
Cucumber Pom Deluxe
: Effen vodka, cucumber, mint, lime juice, pomegranate juice (thanks Kevin for keeping track of the alch-y tonight!)
15th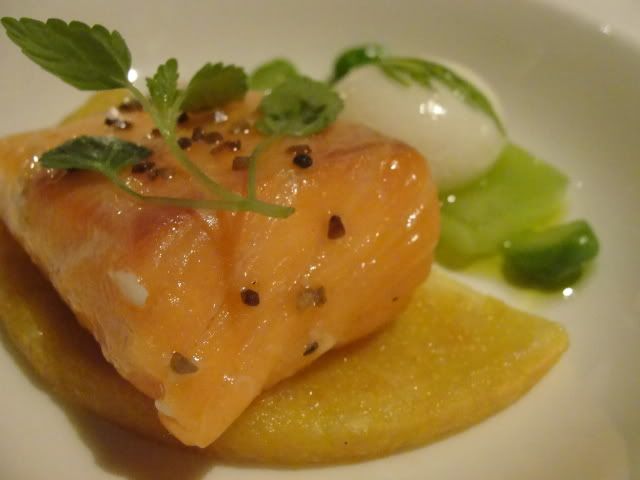 Smoked Salmon
with Chickpea pancake, fresh Chickpeas, compressed Cucumber, Dill, and Tzatziki Sphere
Maan, these guys know their perfection of cooked seafood, never has Salmon been so moist! The chickpea pancake was a favorite of mine, playing off Indian fried legume flour sort of things, especially accented with Tzatziki Sphere. Green chickpeas were not starchy like usual cooked Garbanzo's. Compressed fruit was starting to grow on me at this point.
16th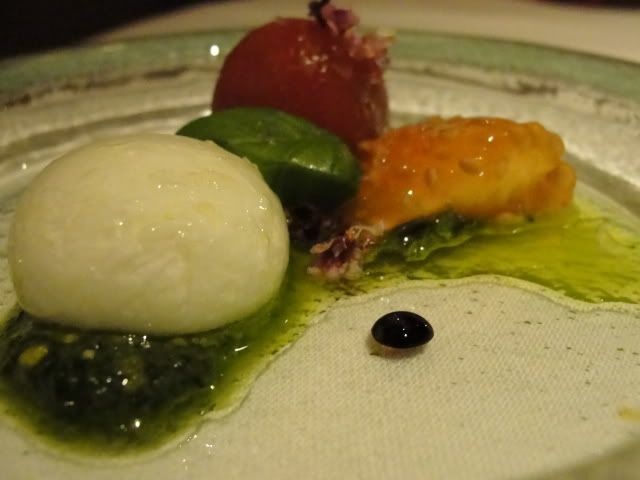 Not Your Everyday Caprese
A lot of things this night sort of had this 'water-balloon' type effect, meaning that as soon as you put it in your mouth...BAM! All these flavors would explode in your mouth. This went especially with this dish, the Cherry tomato and liquefied Mozzarella Sphere in conjunction was like a grenade, and the crunchy black tomato seeds were like the metal pieces shattering all over. Basil olive oil soothed the wounds and Maldon Sea salt finished it off.
17th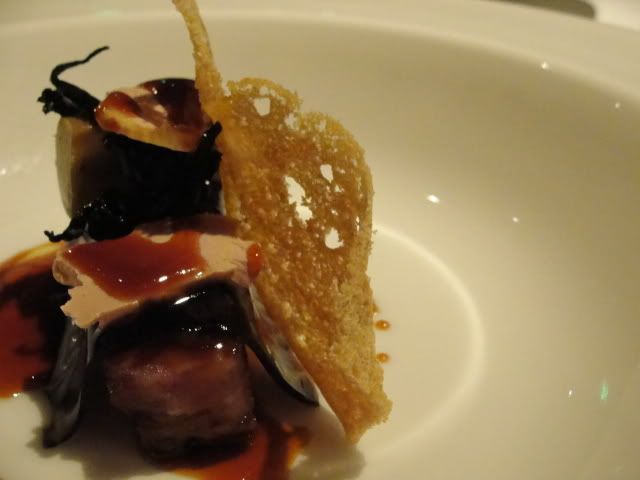 Tournedos Rossini 2009
with K5 Wagyu Beef, Trumpet mushrooms, shaved Foie Gras,
Truffle Gelée & Dry Brioche bread.
This was absolutely magnificent in every way gastronomically possible, like beef butta', no other way to describe it. The beef gave away basically with just the weight of the fork itself. Jeez, I mean, just take a gander at the marbling, thin-striked, consistent through out the cut meant for some bodacious, butter-like bovine quality to be had of it.
(bare with me photo quality in this shot).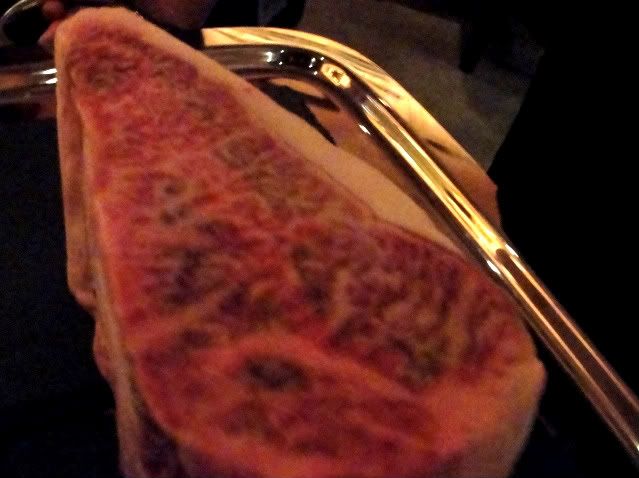 Somewhere along this course (hopefully) range of the night, these bad boy's/girls were ordered up too.
Brandy Alexander
: Exuberantly creamy with heavy cream, Crème de cacao, and nutmeg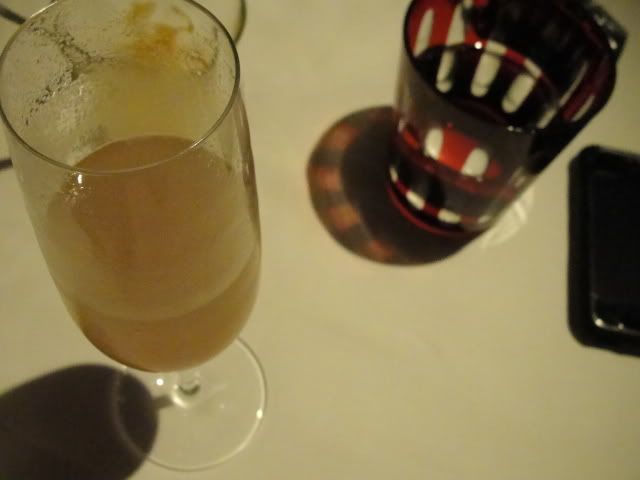 Bellini
made from fresh peach juice, Japanese peach, and sparkling wine. Hazy recollection, peachy?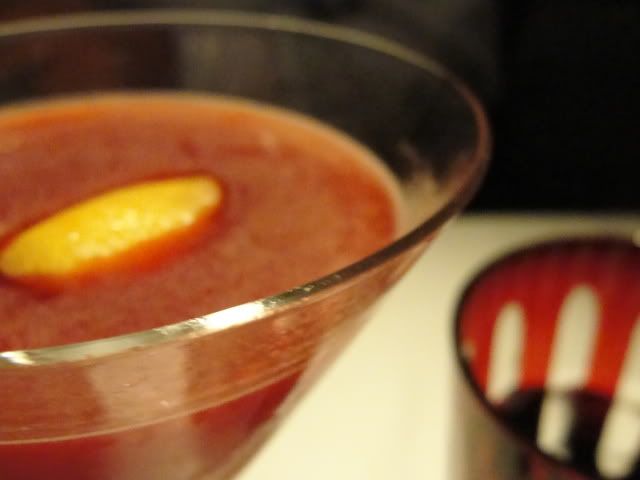 Jalé Berry
: gin, Cointreau, fresh blackberries, and jalapeño: Amazing...'ly smelling.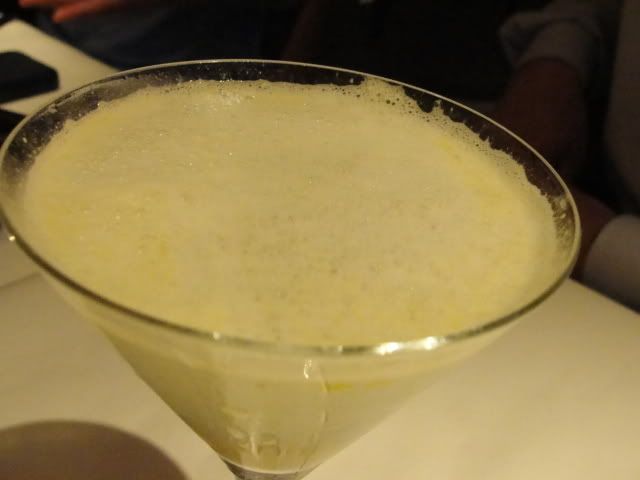 Dirty Martini
:
Olive Brine Air and Olive Spherification
. That explains
the almost-pungent olive-y smell!
18th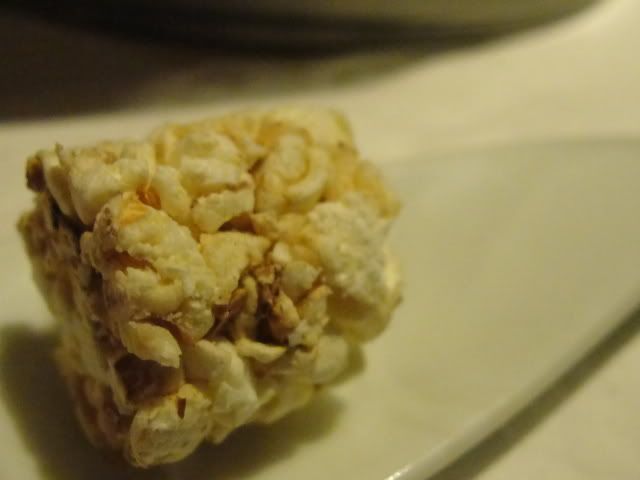 Dragons Breath Popcorn
I wish I wasn't so self-conscious and would of snapped a cheesy, myspace-style 'angled' picture of myself as I ate this. I finally got to live my childhood DragonBall Z dreams of having fire breath, sorta. This is the most astonishing thing I have experienced--foodwise--in my life. Basically just caramel corn, compressed into a bite-size ball, and dunked into Liquid Nitro. I think because popcorn is so porous, it makes the perfect vehicle for the smoke-machine-like smoke emitted from the stuff. You are supposed to ingest, and immediately breathe out through your nostrils, making you a dragon for a quick millisecond. Murmurs around the table echoed saying that this used to be Jose Andres's trick up his sleeve that he would only pull out to impress the hell outta whoever he felt was worthy. Well, it certainly did the job. "SWOOOOOPH" (dragon noise as he flies smoothly away in a slither formation through the air)
19th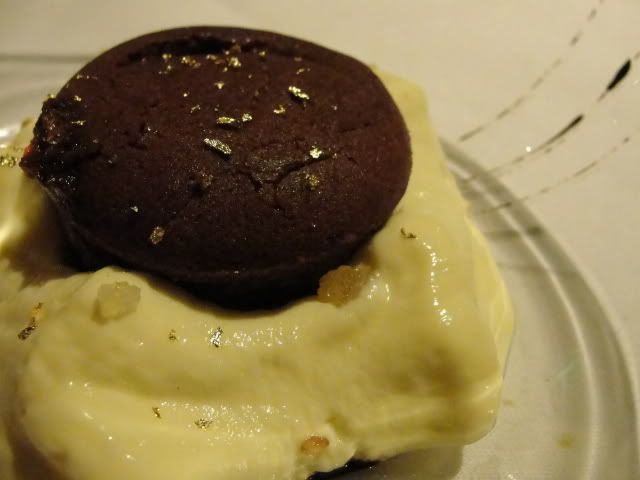 Chocolate Biscuit Coulant Michel Bras
Awwhh...so cute, a Chocolate Molten Cake prettied up with edible Gold leaf cuddling up with candied ginger-spiked
Vanilla & Cardamom Foam
. This was the chocolate knockout of the day, spices added intense complexities of spicy flavor only natural to Chocolate, just like the first way of eating Cacao in Aztec time (drank spicy, not sweet). And no, it did not taste 'metallic', the gold leafs has an extremely minute amount of actual gold in it, so it is all purely for sweep-feeting impression purposes.
20th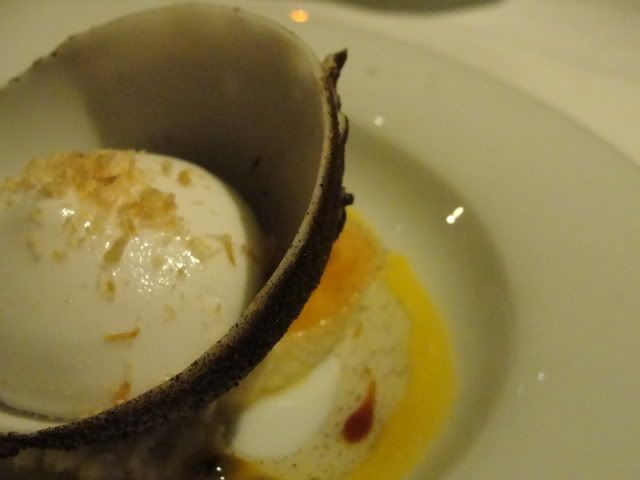 Coconut in a 'Half Shell'
Liquid Nitro chocolate-coconut shell, chocolate cocoa foam along with sauce, Coconut Sorbet, Caramelized banana, passion fruit sauce with seeds.
This was basically an entire sub-tropical island on a teeny dessert. Choco-Coco shell was interesting, reminding me of that chocolate-dip stuff they have at Foster Freeze or that weird 'instantly-solidifying' Ice Cream sauce I grew up on, being solid to crack, but still somehow meltingly creamy. Banana and Passion fruit did it's thing that fruit usually does to chocolate, brightened it up quite a bit to contrast the one-note flavor of it. This creates a more exciting "OMG!" type of flavor combination necessary for foods to keep you coming back for more, more, and more.
Last but definitely not the least amount of satiating least...the Petit Fours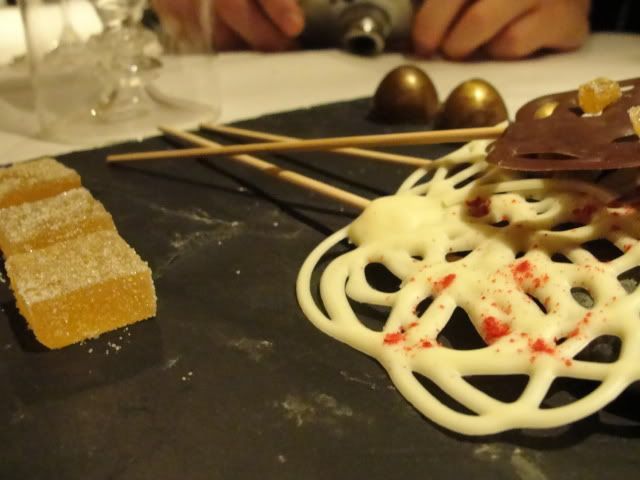 Saffron Bonbons, Passion fruit Gummies, Chocolate Candied Orange and White Chocolate Raspberry
.
Wouldn't mind having a couple of bags of these in the theaters, homemade, exotic-fruit/flavor versions of
Cabbage Patch Kids
Gummies and Bonbons was a solid finish for the night, chewing away as I bit into the White Chocolate lollipops, yes, I like white chocolate, even if the only actual cacao product is the butter, superfluously smooth and those raspberries doing that aforementioned fruit thing.
Believe it or not, after finally finishing and receiving this fierce piece of paper: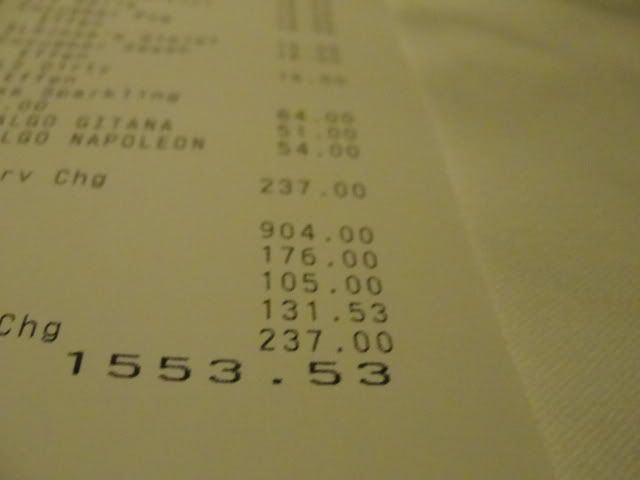 We were not "full, full".
Through out the night, there were a lot of ideas shouted around about where to actually 'eat, eat' afterward, with suggestions of Pinks, or Taco's being tossed around without abandon. I had to take the bus home so didn't stick around but I know others sufficed for a satiating Del Taco feast afterward.
Anyways, these were all the food-centric people that was there, along with the brilliant chef's who served us up.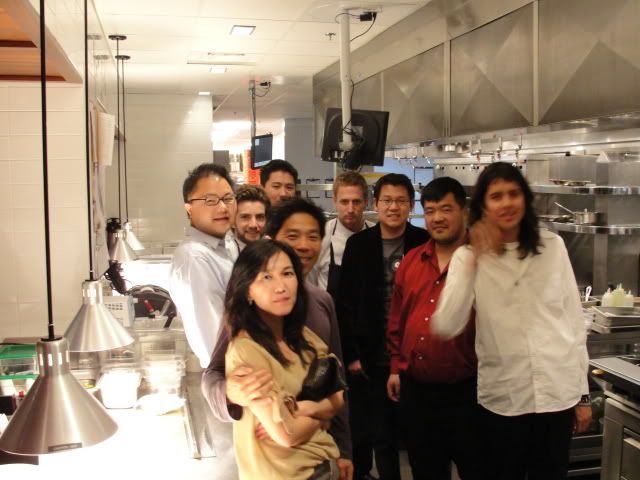 Chefs:
Chef de Cuisine Michael Voltaggio
Sous Chef Marcel Vigneron
Bryan from Fooddigger
Ryan from
Tangmeister Blog
Kevin from
Kevineats.com
Mike aka the
Pepsi Monster
But an esteemed thanks to this selfless homie right here,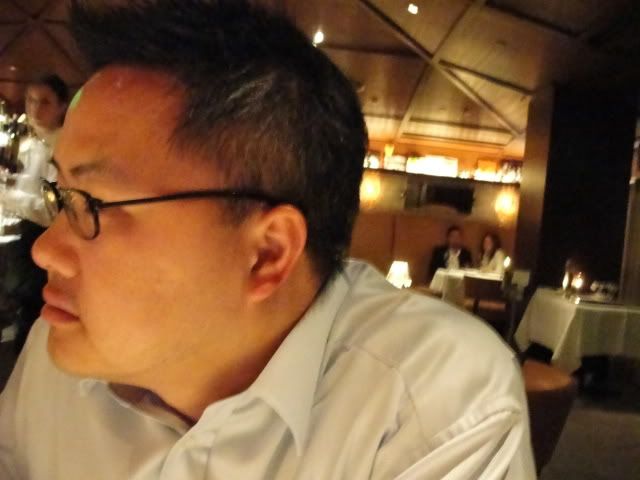 Will Chi from Fooddigger
Who materialized this for me (financially), Thanks
Compa
, you have no idea.
I have learned, through this and everything else in life, that...enlightenment is a continuing process, not just this misconception of sudden poof, and there!
So...onwards food roshi!