Tequila hasn't gotten as much attention as it deserves in my life as a Mexican American. Would had loved to enjoy it in an earlier point in life, but was always subdued by the smallest bottle of East L.A punk youth favorite:
Jack Daniels
, or even cheaper, despicable
Popov
vodka, both...straight swigs of course. In between songs in my back yard punk day's, it would do the job.
My earliest memories of Tequila are of chilly Christmas or New Year's eve's, my mom's side of the family would brew
Ponche
con piquete
, a motley winter brew of anything sweet that grows (pomegranates, Jocotes, Guavas, Apples etc) on trees infused with cinnamon tea...along with a generous dash of
Sauza blanco
, that was the
Piquete
, the "bite". I would never get a full cup but would always get a thirsty sip from my mom, only for everyone to laugh at me as I cringed and felt the vicious burn run down my esophagus and into my stomach.
It was time to record new memories (and fuzzy ones at that).
In these three day's...it was time to learn bit more about my heritage, I knew there had to be some better Tequilas out there, right?
Thanks again to the strenuous efforts of the foodbloggero elder
StreetGourmetLA
, we were to spend three days and two short nights stumbling in the illustrious streets of Tijuana, Baja California, drinking and eating our way through town to better understand Mexican culture.
Considered an unofficial "Part II" of our earlier
epic Tijuana foodblogger family trip
that took place last July, this featured only the truly dedicated bloggers of the last trip, including
Food GPS
,
Gourmet Pigs
,
Pleasure Palate
,
Kung Food Panda
and
Eating L.A
, amongst some that only joined us for one short day. Even Chef John Sedlar of the popular
Rivera Restaurant
in Downtown was spinning inspiration from T.J's great splendors.
A quick crash course in the art of Tequila.
By law, Tequila can only be made in the state of Jalisco, Guanajuato, Michoacan and Tamaulipas and Nayarit. Anywhere else, it can not be labeled Tequila. Nonetheless, Jalisco still controls the market since its one of the few states abundant in rich volcanic soil, perfect for growing the
Blue Agave
plants. Only after 8-10 years of caring and tending are the
piñas
(pineapple shaped base) ready to be pulled out, roasted, then extracted of its sweet liquid to be fermented into alcohol.
A fine example of a piña
When cooked, the
Mezcal
is also a popular inedible snack with a smoky, sugar cane like flavor and texture.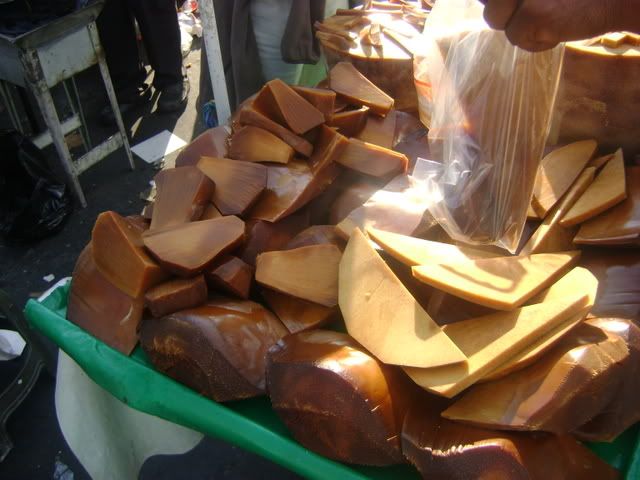 Knowing that I was stepping into a country where the legal drinking age was 18, I was determined to
Carpe Diem
--FULLY take advantage of all my temporary privileges.
Already, the first taste was a splendid sip.
Los Tres Toños Extra Añejo
is aged for three years in bourbon cask and grown in the central lowlands of Amatitlan. This starter shot had noses of molasses and faint dried fruit with sweet Vanillin finishes, only the subtlest burn...not a bad start.
Gimmicky sounding and labeling, but with a respectable taste actually.
Chamuco's
("Demon")
Reposado
brand, aged six months in white oak barrels with a 38 proof, this taste was quite straightforward with mostly spice notes, smooth, with no throat burn at all.
Per the wisdom of Streetgourmetla, a general rule of thumb is that the hotter the Tequila model, the worse the Tequila will be.
As was the case with this random brand I can't even remember, tasted like motor oil though.
The flavored Tequilas deserved some attention to, being a nice little sweet break from the hardcore tasting.
A refreshingly tart
pomegranate
infused Tequila from
La Pinta
brand; lanky, girl-body background courtesy of my profused buzzness enhanced attention to girls.
Feeling Fuzzy, not just picture--
Tequila con Jamaica was stronger than expected, keeping that sweet-tart flavor of it but with that renown burn.
Of the three day's, the showstopper had to be "Volcan De Mi Tierra's"
Reposado
, aged 6-8 month's. A product of
El Arenal, Jalisco
, this was a definite underdog; an unexpected small producer with only an old man sporting a handlebar mustache at the table, no ditsy model or fancy engraved bottle in sight.
The nose on this was surprisingly light, not burning the inside of your nostril or making your eyes roll over. It smelled simple, herbaceous, like taking a small whiff of a stalk on a hot, dry day.
The flavor was phenomenal: a crisp, nutty beginning, a fluid, oak-y continuation and alas the sweet, elegant burn tickling your throat--not torching it.
An added bonus, some primordial
Pulque
!
Cured with Guava
: Multiple flavors usually available like Walnut,
Tuna
etc.
Milky, viscous and tart in texture,
Pulque
was the original beverage of Mexico with it's earliest records being 200 C.E, 1319 years before the Spanish conquest.
Originally, it was reserved as a purely ritual drink due to the
Maguey's
sacredness, drunk only by priest's and sacrifice victims to....yeah. It takes a maguey plant twelve years to produce the sap for this wonderjuice. Unlike Tequila which only uses the cooked heart of only the Blue Agave, Pulque is made with the uncooked whole Maguey plant, stalks and all.
It's popularity has decreased severely over the generations, the introduction of European Beer basically killed it off, being given a 'dirty and low class' appeal when the first beer manufacturing plants started showing up in Mexico around the beginning of the 20th Cntury. Now, it's almost completely forgotten.
It is really hard to find this authentic drink outside of Mexico City, Hidalgo and Tlaxcala states--at least the unpasteurized, thick, layered, legit stuff. They sell it now here in the states, but it's pasteurized, sweetened and all that other usual stuff that's done to American products.
Oh well, I fully appreciated it, getting a full glass cup of the luxurious stuff every day I went, and event taking a pint home, illegally.
Just take a gander and behold the Layers of sun kissed complexities
Hasta La Proxima...