I am twenty...so what?
Feel the same, look the same and absolutely eat the same (even more I think?). Still can't help but feel nostalgic but at the same time...good riddance, seriously.
Delayed my highly anticipated, usual
Dim Sum feast at Elite
an extra hour to do some excruciating forward bends, I ended up haphazardly trying
Lunasia
Chinese Cuisine right across the street (decided to go with the whole 'new phase in life' theme, hence, try a new Dim Sum Place?).
This was probably my first Dim Sum experience back in the day when they were still 'Triumphal Palace'. They have a very similar menu to
Triumphal Palace's
, not too far from
Elite's
so, I stuck with some of my usuals, and of course...tried new things.
We were the first guests of day, the three of us (mom, pops & me) were the only ones there for a good hour, service was impeccable. Not even five minutes had passed since we submitted our little dim sum exam sheet (check off, no carts in sight) and our first plate had arrived.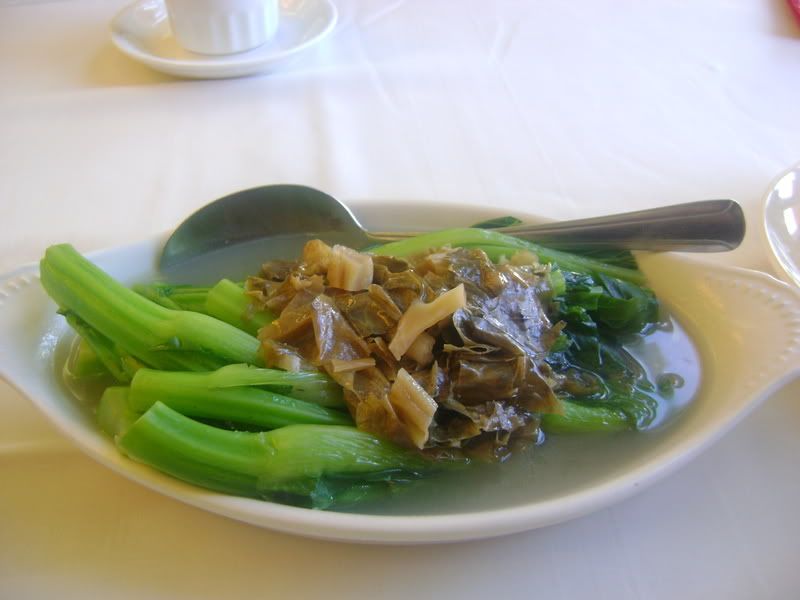 It was simply translated to
Boiled Chinese Green
, definitely a close relative to
Kai Lan
(Chinese Broccoli). Lived up to its name as there was no resistance in the usually undercooked stalk of this plant, came along nicely with some added texture of the chewy bean curd pieces on top. The broth added depth.
Then these babies showed up.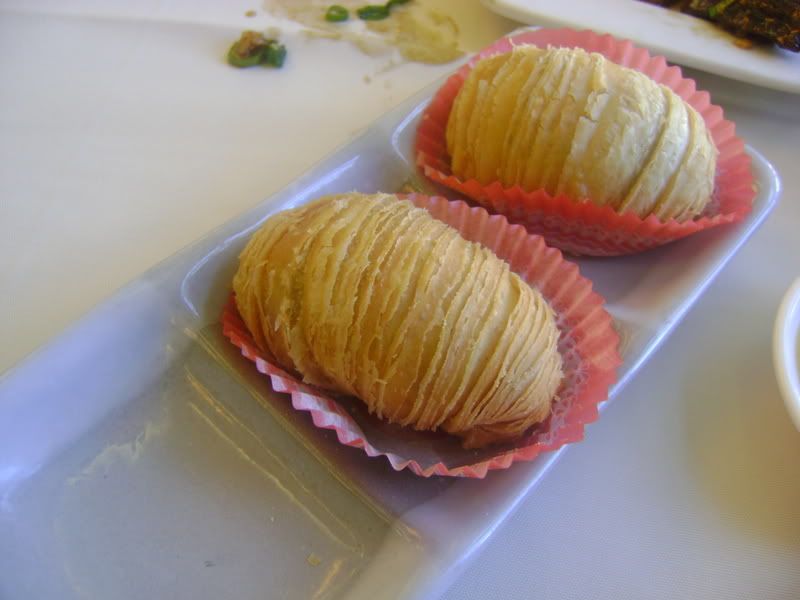 Baked Turnip Cakes
have been making its way to most of these modern check-off establishments. This glorious pastry encompasses that ubiquitous shrimp-pork-rice flour steamed turnip mixture and adds even more of a swoon affect with its luxurious flaky crust. Still, keeping that light touch; not as greasy and rich as in other places.
Next up was the
Sauteed Eggplant
.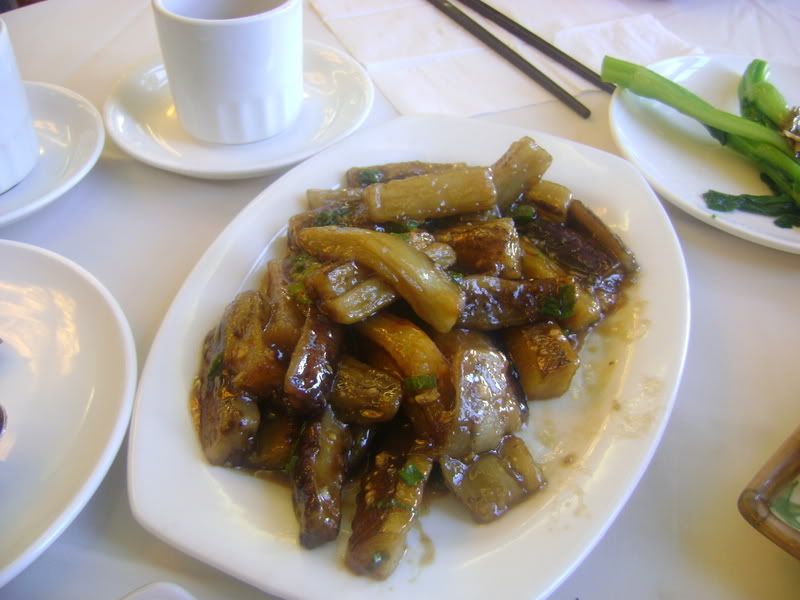 Eggplant is one tough veggie, literally. To get rid of that bitter, dry mealy raw texture requires a lot of patience, skill and heat. That said, these were good. Texture somewhere between a fried plantain but still a little bit of that raw eggplant stuff left in tact. The accompanying sauce was as expected, a lot lighter on flavors--not as sweet or salty--than most other chinese eggplant stuff.
The
vegetable dumplings
were standard.
A plethora of finely cut assorted veggies and bean noodles. Just have to wait a while to cool (which I couldn't), so they can be chopstick manageable. Since they are done in the Cantonese style of the south, fragile, translucent rice flour is used, not thick pliable wheat flour like in most dumpling/noodle only shops.
Almost done.
Pan Fried Turnip Cake in X.0 Sauce
X-O Sauce is a concoction derived from brewing the hell out of dried fish, scallops and shrimp then cooked with garlic, chili, onion and oil. Put this on anything and I will eat it. The turnip-mixture spears were satisfying, starchy and hitting the same comfort spot as a devious steak french fry. My dad was convinced it was a potato wedge.
We also got these
Purple Rice Wraps
due to the exclusivity of it. But they didn't make the photo room floor (totally crossed my mind somehow). These were the only things that broke that signature lightness that was apparent through out all the dishes. The wrapper acted as a sponge for excess oil. Nonetheless, the obscure
forbidden
rice delivered its floral savory notes, it was well seasoned.
These though, let me tell you about these.
Durian Pastry
Absolute godfood. That same buttery, flakey crust but this time enveloping the king of fruits: Durian, in all its luscious, silky divinity. I will admit, it was a bit sissified though to maintain
Lunasia's
signature lightness.
Going again with the theme, I opted for
Pu-er
cha (tea), a fermented black tea associated with old chinese men for it's digestive benefits, ha. It went nicely with everything, tasting of earth. It kept me rooted and refreshed through out the meal with its fresh soil essence and fat-cutting properties.
Everything ranged from $1.88 (S) for the smaller vegetable items to 6.88 (Kit). for the meat items. I did get kind of carried away. So, thanks pops.
A nice way to start my birthday, first one since I can remember to start off right.
Lunasia Chinese Cuisine
(626) 308-3222
500 W Main St
Alhambra, CA
91801