Almost done with semester at PCC, still have no idea what I'm going to do in life. Was thinking of going somewhere in South-East Asia if I man up in time, but my 4 year macbook companion, took a five feet dive yesterday and it wasn't pretty, like dropping a baby. Hmmm...new mac or vacation?
So backlogged, don't even know where to start, must use this school library time carefully!
Being a guy of my word...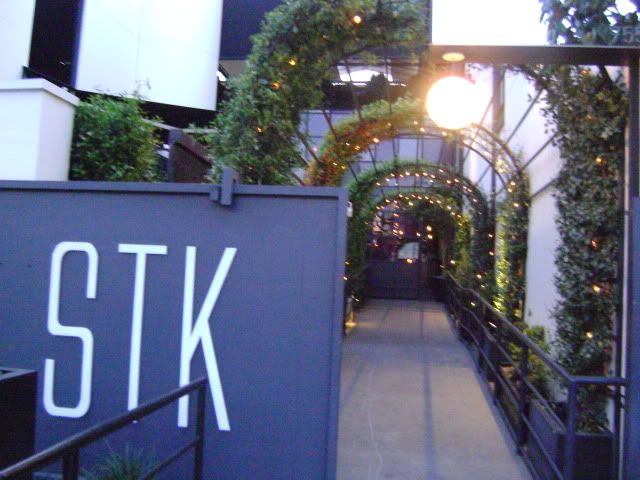 A while back, Abby from PleasurePalate
organized a media dinner with a bunch of us over at STK house, basically an event where the set restaurant gets to showcase it's chops. Abby is interning with
One Group
, responsible for other L.A-hip abodes such as
One Sunset
and
Coco De Ville
.
Blogger dinners are something all in their own, an all out attack of comped dishes, drinks, desserts one after the other until we reach that sad/sickening feeling of satiation and you just can't take another bite...one of my top reasons of loving life personally.
Today was no exception.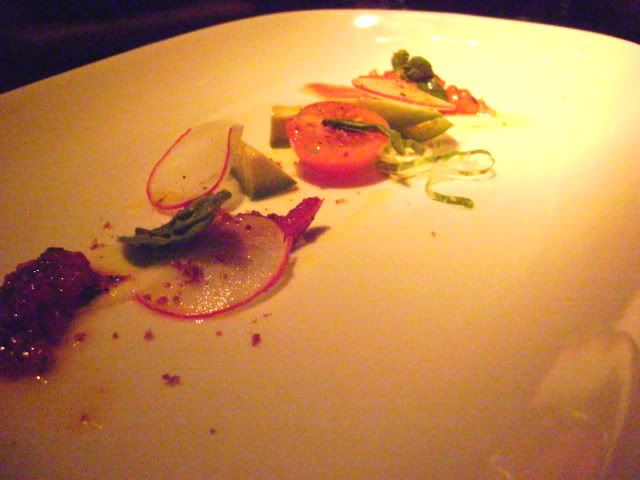 Talk about [tongue] sweeping a foodblogger off his taste buds!
Tomato 4 ways
(Tomato "tartar", marinated sun-dried tomato, flash fried tomato, and a marinated raw cherry tomato), Chef Todd Miller set the bar high with this special off-the-menu starter. Top quality tomatoes of any sort need not too much doctoring at all, as is the case here with basil infused olive oil & a dash or two of
bacon salt
, like I said, not much at all.
A cocktail pairing was to accompany every course apparently, courtesy of their mixologist
Pablo Moix
. Wished I would of knew this before the cocktail reception, based from PURELY aroma and presentation sense perceptions...\
Uva Caipirinha
(Leblon cachaca, red grapes, lime, clover honey)
Golden
Roasted Beets
get the Eastern treatment with coriander, micro mint, yogurt & a light curry blend ($12). Surprisingly superb blend vs. these perfectly cooked root veggies.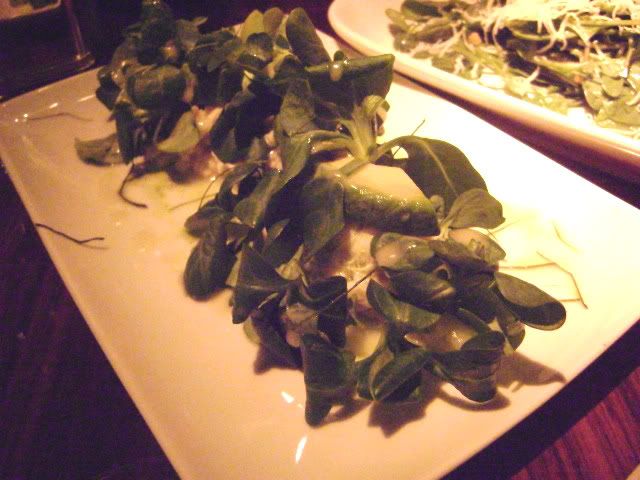 Jumbo Lump Crab Salad
(green melon, avocado, mache greens and kaffir lime)
Keeping true with it's "Jumbo" naming (for once), this mix was jam packed with luscious, sweet crab flesh, tasting overly fishy in some bites, but that Kaffir lime took care of that nicely.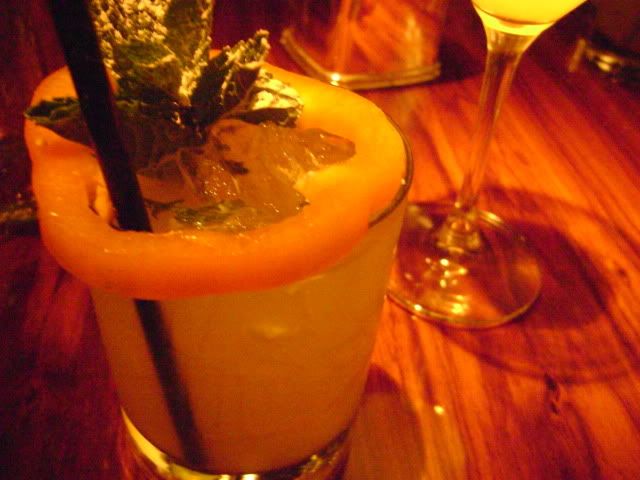 Capsicum Mojito
(Bacardi, lime juice, mint leaves, bell pepper)
...smelled sweet and spicy, in the truest sense of the word.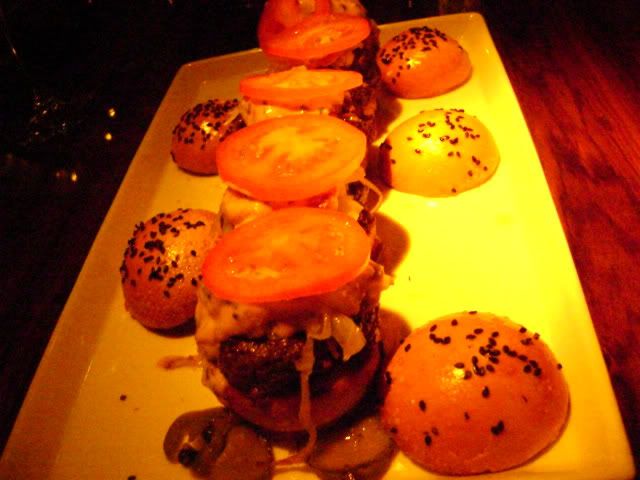 Lil' Big Macs
(Japanese wagyu, "special sauce", sesame bun; $20)
Juice bombs that made perfect headway for those nice fresh-baked buns, that secret sauce only brought everything together. Never having an actual Big Mac ever in my life, and not planning, ever, especially after this baby.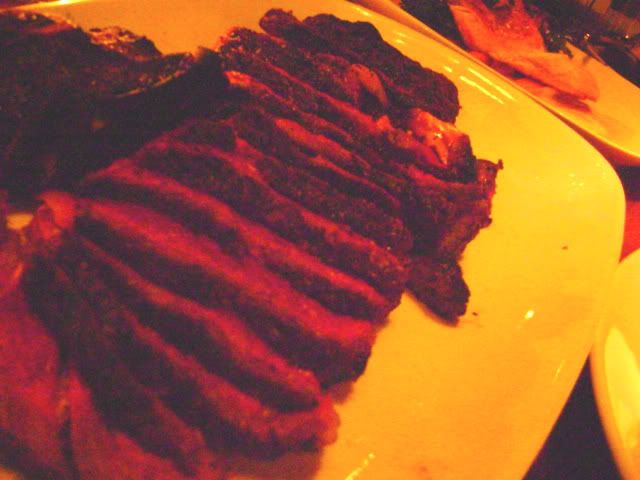 Wet and Dry Aged Beef orders were charred & nice from what I can remember, but not to much swoon factor, the myriad of sauce I'm sure would of helped (herbed Bearnaise, red wine sauce, blue butter, STK, lemon mustard, bold STK, and toasted peppercorn, creamy horseradish) if only they weren't all the way on the other side of the buzzed blogger table...
Swoons were definitely heard on these spud sticks though.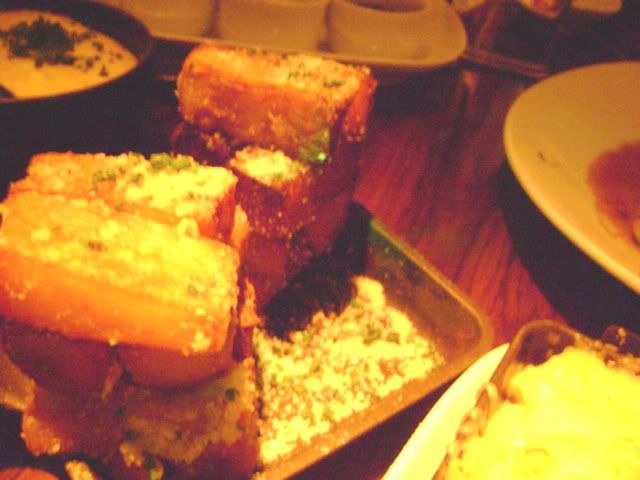 Truffe Parm.
(more like porn)
Cheese Fries
Lincoln log style-stacked. Wait, since I wasn't around to play that back in the day, so, can't really walk the talk, so, here's my J.Gold style bad ass description: Jenga, jenga, jengaaa! A-ha, take that J. Gold guru...
And the night's clincher, a most surprising makeover of old friend friends.
Hazelnut Pop Tart w/ Hazelnut Ice Cream
Nutella containers and Chocolate Pop Tarts never lasted longer than a week in my house. These renditions were impressive, they got down that signature crumby, buttery crust like in the industrial artificial ones but actually made from real quality ingredients. And very few times does
A la Mode
not work on desserts.
Honestly, didn't know what to expect as I fell asleep on the bus coming to this place but, it was pleasantly surprise. Vowed to myself to never become one of those L.A hipster type of guy's, but wouldn't mind coming back on an 'expense account' one day to experience that hip burger, fries and Nutella pop tart thang.
Other bloggers who joined who were hip enough:
Alli 411 http://alli411.blogspot.com/
Folie a Choisauce http://choisauce.wordpress.com/
Food She Thought http://foodshethought.blogspot.com/
Gastronomy http://gastronomyblog.com
Gourmet Pigs http://gourmetpigs.blogspot.com/
Kung Food Panda http://kungfoodpanda.blogspot.com/
Liquid Muse, The http://theliquidmuse.blogspot.com
Matt Bites http://mattbites.com
Mattatouille www.mattatouille.com
Seeking Food http://seekingfood.blogspot.com
Sinosoul http://sinosoul.com/
streetgourmetla http://streetgourmetla.blogspot.com/
Teenage Gluster http://teenageglutster.blogspot.com/
When Tara Met Blog http://www.tarametblog.com/
List thanks to
Gastronomy Blog
STK
755 N La Cienega Boulevard
West Hollywood, CA 90046
310-659-3535