Girls have been eating up my blogging time lately, a lot. At least two 'friend requests' per online networking medium a week—average--thanks to that
Bizarre Foods
episode I came out in a while back. Not a bad thing, I mean, if it wasn't for this girl I met a while ago…I would had never found out about this lady who sells the worthwhile lamb dish known as
Barbacoa
straight from her backyard pit--
score
.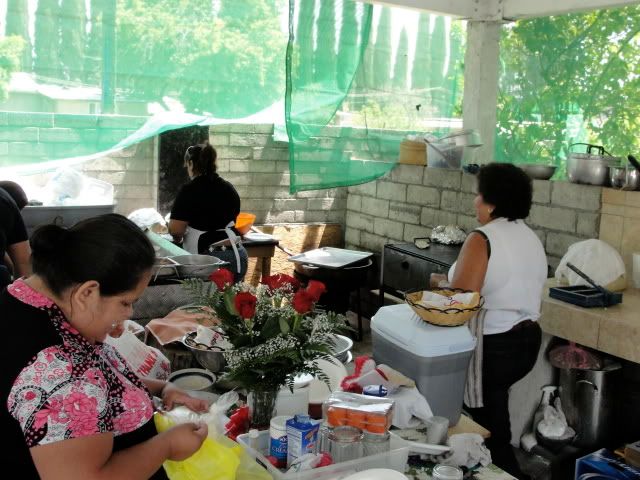 I was ecstatic, the secret restaurant concept is one that makes any foodie swoon with giddiness. And there it was...
From the Puebla provinces of Mexico, Tia Flor slaughters one sheep, and one sheep only every single Saturday.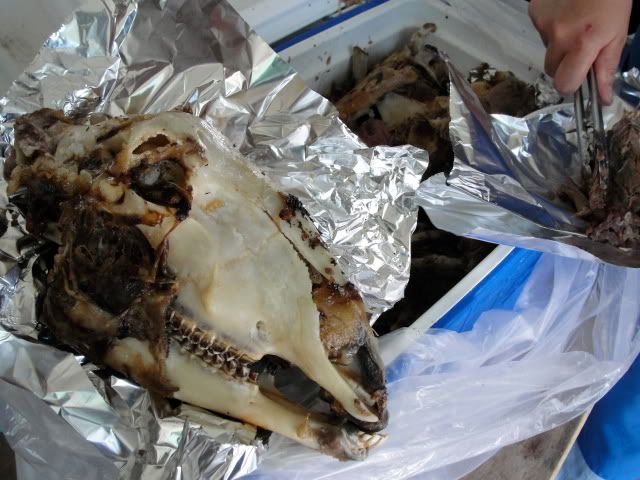 She breaks the night, dwelling into twilight hours of Sunday, tossing and turning the smoldering
Maguey
cactus leaves that moisten and infuse the fresh mutton chunks that it encapsulates within. The ash temperature can turn to toughening hell in a sleep-derived blink of an eye.
I will say what is to be said, that is: foolhardy consistence. Then again, hell's oven really has no way of being controlled, thus, the concept of consistence--in this case--is quite contrary. This is not the best I've had in my life--that would be this guy in the corroding streets of
East D.F
(
Ahuizontla, Nacaulpan
), he makes a three hour trek from ______ every Sunday morning. But just as his tender game runs out by the strike of noon...so does hers.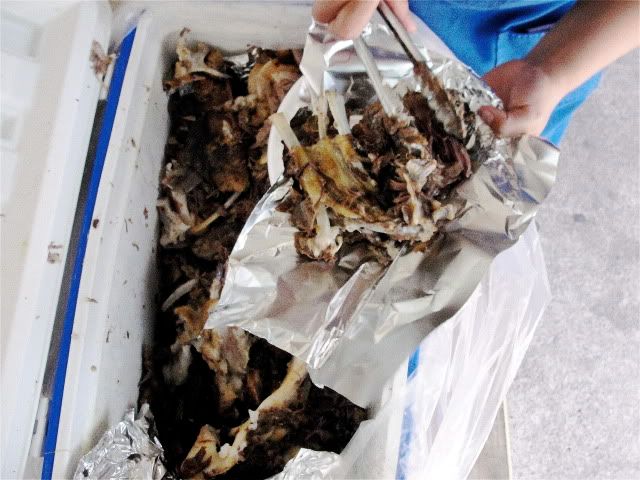 My first taste of the stuff was actually at my house, take-out, personal delivery right after--no meeting parents for me, thank you very much! At first taste...
smoke
, in it's most subtle of way's I've EVER experienced it before, unlike any of the restaurant stuff I've had around here before. The flesh itself actually had flavor, my mind was running lucid imagining how her
Consomé
, the broth that leaks of the lamb as it roasts, would be like.
My foodie apparition was correct, spiked with creamy Garbanzo's, it was utterly unami in every savory sense of it, along with that subtle smokiness...
She also griddles up some'!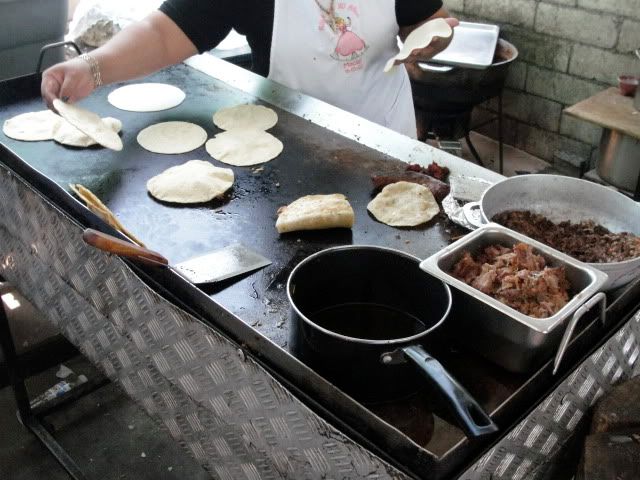 Quesadilla's
here are stuffed with the Mexican Exotics
Canon
: First, the notorious jet oil-black stuff known as
Huitlacoche
that is the epitome of the "earthy" flavor characteristic. Second,
Flor de Calabasa
(Squash Blossom's) that are marinated. And last, the strikingly aromatic herb that Aztec's knew as "Skunk Plant" aka
Epazote
.
Mention
"con todo
" and your fresh-made tortillas raptures will be truly glutted.
Hongos
, mushrooms that are snipped up into tiny little rectangles and of course,
Chicharron
(fried pig skin), that is fried to jagged crispness and also cut into confetti-sized pieces. You will be surprised to see how much those aforementioned sized items adds immensely to overall awesomeness.
Consistence in this category is fail-safe, hence, these are the best
Quesadillas
I have ever had the pleasure of.
With this, a description of her
Salsa
supplements is almost mandatory.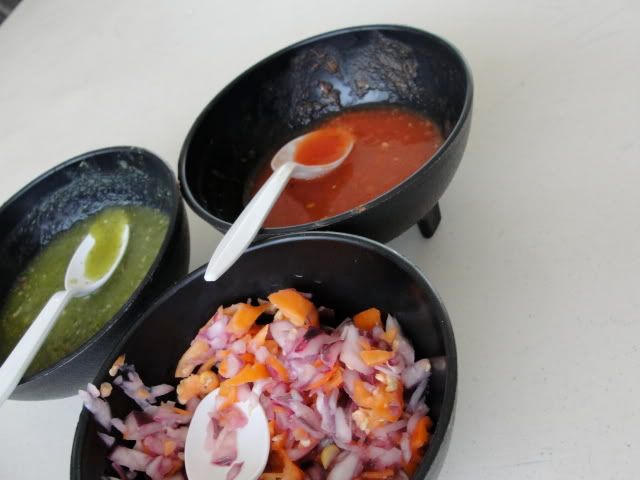 Behold:
Tangy
Tomatillo
Green,
Tomato--not chile--based Red (don't let tomato fool, packs a punch)
Cured Red Onion and Habanero Relish...fucken fire.
I was also introduced to a
Jaliscan
Neveria
(Ice Cream) street vendor that makes some of the smoothest water/cream-based, natural
Tamarindo
nieve I have ever tasted.
Doña Evangelica
also sticks to old world ways, from house-to-back-of-truck vending, the making of these
Nieves
takes several day's. Ice Cream making is a full arm workout, churning and churning for two hours, or however long it takes for the rock-salt and ice solution to do it's thing on five gallon steel tubs filled with base. She starts on Tuesday and goes on making the stuff until showtime: Friday, Saturday and Sunday.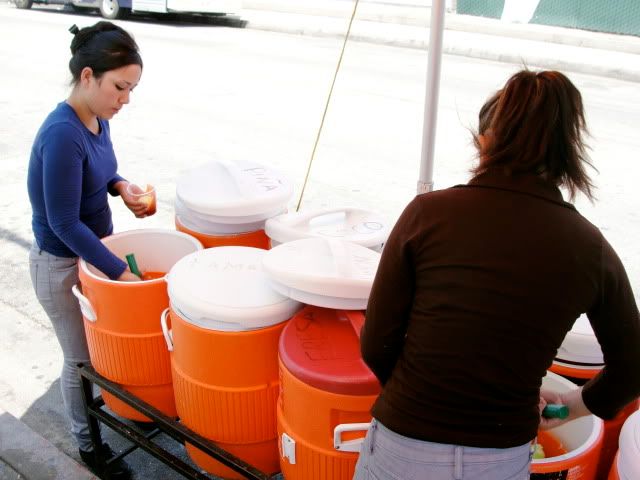 Doused with a strong
Chamoy
sauce she actually makes from scratch, it's originally made from apricots for a Mexican Sundae sort of thing, on a Sunday afternoon. This usually follows a trip out to that ghetto Barbacoreria, and it's like also like an esoteric godsend after all that spicy, heavy food.
Mmmmmm...occult debauchery.
And they also do a Tequila
Nieve
for special occasion.
"Ohh...sure! I'll be happy to meet your parents..."
Garcias Mexican Ice Cream:
cell: (323) 271-9437
(323) 309-6313
On corner of Potrero Grande St. and Rush St. (Citizens Business Bank parking lot)
Secret Barbacoa
shhh...it's a secret!