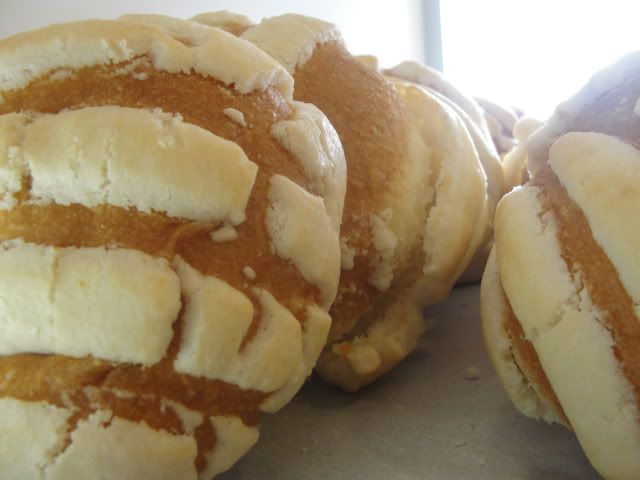 What better way to celebrate
"Traditional Mexican Cuisine" finally becoming "a cultural treasure"
Since I didn't wake early enough to catch yesterday's press conference about the upcoming
200 Years Of Mexico Cuisine
event (first "after-hours" experience at Koreatown; ugh), here are the details on L.A's first event celebrating regional Mexican food for a good cause.
(taken from press release)

WHAT: On Saturday, December 4, 2010, from 5–10 p.m., La Monarca Bakery—along with traditional Mexican restaurants Frida Mexican Cuisine, Guelaguetza, and La Casita Mexicana—will celebrate Mexican culinary and cultural history with the "200 Years of Mexico's Cuisine" event, presented by The Taste of Mexico Association. The inaugural event—taking place at the Cathedral of Saint Vibiana in downtown Los Angeles—will offer attendees a taste of authentic Mexican specialties, including over 35 traditional dishes from varying regions throughout the country; premium tequila, beer, and mezcal tastings; Oaxacan dancing; a silent art auction and exhibit; and live Mexican music and mariachi band performances.



Ticketholders will have access to unlimited tastings from La Monarca Bakery, Frida Mexican Cuisine, Guelaguetza, and La Casita Mexicana. All participating restaurants are members of The Taste of México Association, including the organization's president and La Monarca Bakery owner Ricardo Cervantes. Attendees may purchase tickets in advance at any participating restaurant or via The Taste of Mexico website. A portion of the event's proceeds will benefit Heal the Bay, an environmental nonprofit organization dedicated to making Southern California coastal waters and watersheds, including Santa Monica Bay, safe, healthy, and clean.



WHEN: Saturday, December 4, 2010 | From 5–10 p.m.



COST: Tickets are $75 in advance and $100 at the door

Tickets can be purchased at www.thetasteofmexico.org and at all participating restaurants



WHERE: Cathedral of Saint Vibiana

214 S. Main St.

Los Angeles, CA 90012



ABOUT LA

MONARCA

BAKERY: Offering traditional Mexican breads, cookies, pastries, and cakes made from scratch daily, La Monarca Bakery provides an authentic panaderia experience utilizing the flavors and ingredients of Mexico. Founded in 2006 by partners Ricardo Cervantes and Alfredo Livas, La Monarca Bakery is named for the monarch butterfly, whose annual migration between the U.S. and Mexico symbolizes the bakery's bridging of cultures with its traditional Mexican baked goods. La Monarca Bakery has three locations in greater Los Angeles—Huntington Park, East LA, and its newest outpost in Santa Monica. La Monarca Bakery is open 7 a.m.–9 p.m. daily, with baking beginning at 4 a.m. and continuing throughout the day. La Monarca Bakery is also on Facebook and Twitter.



ABOUT THE

TASTE OF

MEXICO: The Taste of Mexico Association was founded by a select group of respected Mexican restaurateurs with businesses in Los Angeles, each dedicated to enhancing and promoting the authentic ingredients, flavors, and traditions of Mexico's cuisine. The association is currently comprised of business owners and chefs from La Monarca Bakery, La Casita Mexicana, Frida Mexican Cuisine, and Guelaguetza Restaurant. All founding members are natives of Mexico and are committed to using only authentic Mexican recipes, developed and prepared by chefs well-versed in the flavors and traditions of Mexico. For more information, please visit www.thetasteofmexico.org.


Looks like I'll be covering this event for LAist so
hay nos vimos!