A rather 'persistent' amount of phone calls, email's in the last couple of weeks but...I made it: Taste of Nation 2009. I barely got a wink of sleep due to the mere thought of it, over 50 restaurants which the closest I affordably get to actually experiencing them is only through the brilliant posts, prose and photos of my fellow L.A foodblogger
familia
.
Was disapointed in myself for arriving 10 minutes late but the bus is not the bestest of transit's on Sunday afternoons. There she was, in all its sun-struck, food-frenzied glory...
I have noticed that as soon as I walk in to any of these food events, I tend to have a race with myself to sample each and every dish from each and every booth. Not just anxiety, more than often, the majority of offerings are almost always swept clean at the halfway point of an event. Today, I put myself in the perspective of the average rich Joe and chose my plan of attack to the aisles most closest to entrance first, instead of my usual random, giddying around and scoping out the scene out first.
Rivera Restaurant
came outta nowhere and got my attention, with their most appealing representation of the almighty
Tortilla
, griddling a handmade one layered with
Pansy
blossoms--just take it in.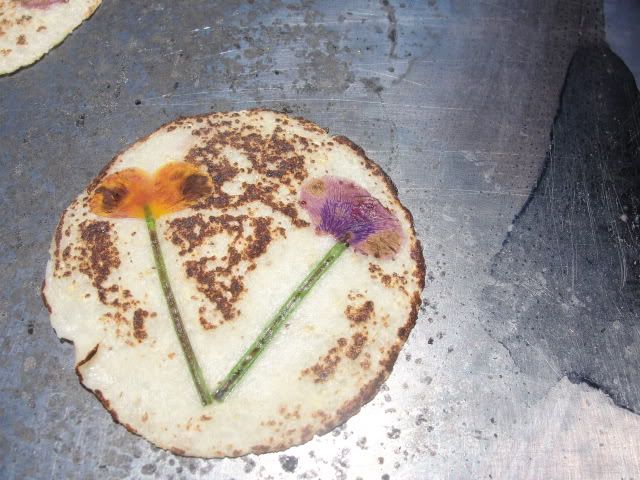 More like a polenta-pancake when bit into, hinting of truly made from "Modern Latin Cuisine" attempt at from scratch. Their "Chile Verde" was actually Taqueria Style Guac. nonetheless, props earned.
Fig's
Confit Duck with Farro and Tart Cherry--delish, delish. Some sort of nut in Farro added jubilant crunch compared with juicy duck.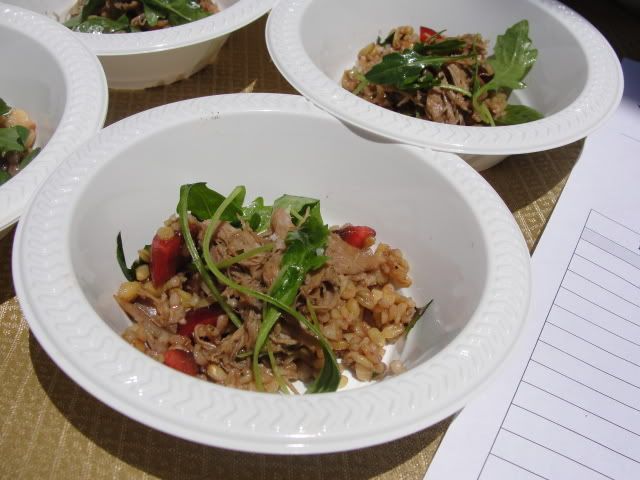 The only dish which I went back for seconds after tasting every single booth:
Nobu's
Miso Glazed Black Cod on Butter Lettuce with Shredded Phyllo...
The regular food clock of savory following sweet follows the infinity concept when it comes to the constructs of food events, shocking your tongue with umami-rich savory's, even after the most decadent of sweets, such as this: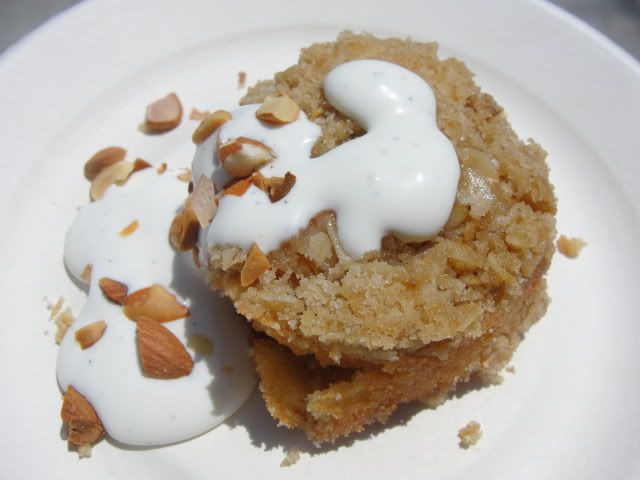 Craft's
Buttery-crumbed Peach Buckle here is no meal clincher in the least.
But we all know that innate habits are hard to break, so I still fall back to my old ways and like to do 2 or 3 sweets in a row to keep the sugar-high running strong...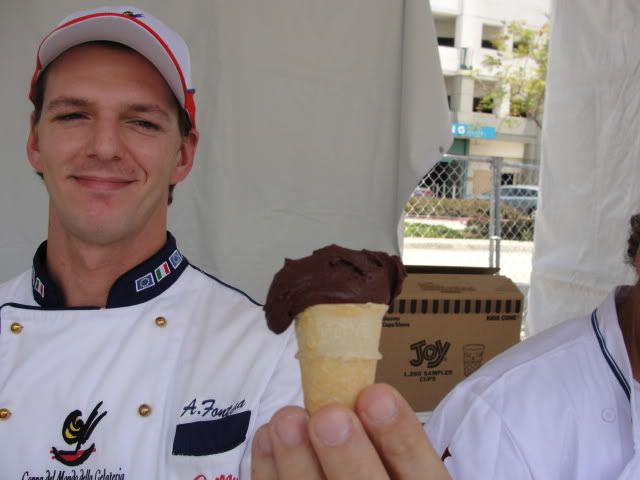 Gelato Bar's
Chocolato Sorbet was cream-lessly creamy and bittersweet, in this sun, knew this stuff was as good as gold here; they were out by 3 past the starting hour.
Now for the transition back to savories, something in between these flavor spectrums.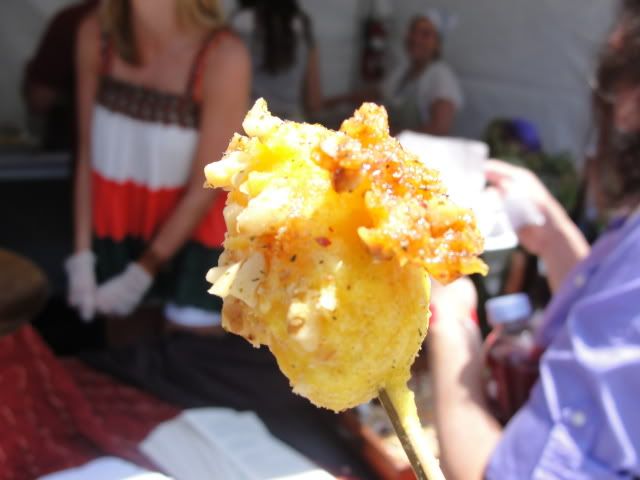 Deep Fried Walnut-Crusted Turkish Apricot stuffed with Chevre courtesy of
Venice Beach Wines
.
Talking about transition, if normal tiny capers are salty, what does that make this
Grusa
variety (14+ mm) like? On top of this
Vitello Tonnato Roasted & Chilled Veal Tenderloin, Creamy Tuna-Caper Aioli toast
from
Locanda Del Lago...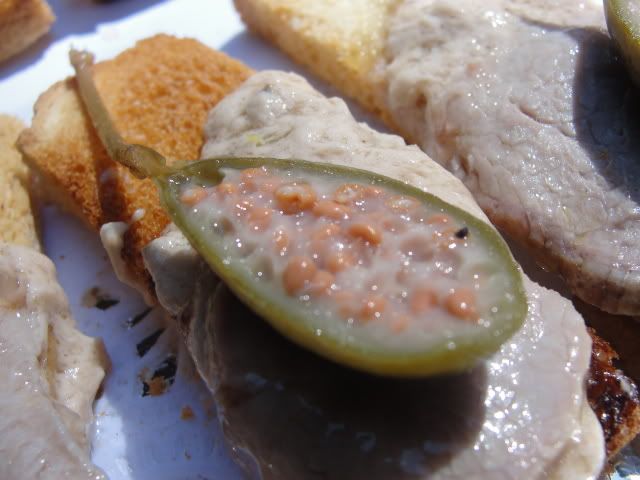 Props to Susan Feniger's
Street
and BottleRock restaurants for choosing to do renditions of culturally venerated spicy/sweet street foods.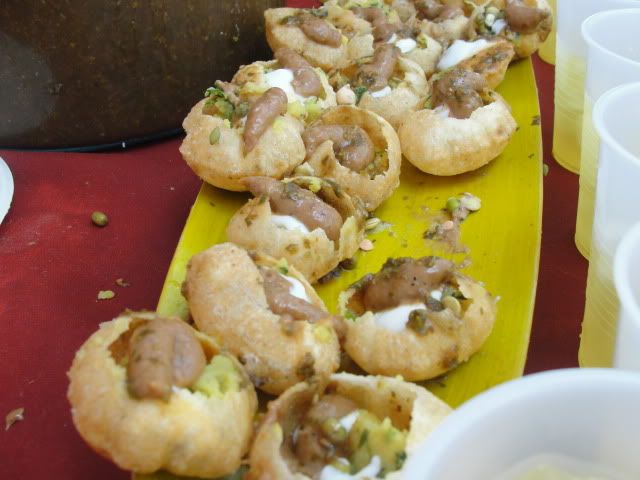 Crisp shelled
Pani Puri
stuffed with spiced Potatoes, Yogurt, Tamarind and sprouted Mung Bean and Lentil sprouts, from the street snack standardized
Uttar Predesh
region of North India (thanks Andrew for enlightening me on that).
Bottlerocks chopped up
Okonomiyaki
seafood pancake rich with slivered Nori seaweed, thick-flaked Bonito fish and assorted usual seafood mix. Japanese thin mayonnaise to boot! A little fancier than
Hiroshima's
version but different is sometimes good.
Learned a long time ago that I shouldn't post about about ALL the day's noshings so I guess, I'll switch over now to the glamorous part of the food life: Celebrity local chefs. Nawh, nevermind. In it for the quality of food, not for the drama and glamour of this Chef this or that Chef that.
As you guys may have heard, a "Mole Cook-off" was to take place this on this glorious day. Moderated and judged by
Shifu
Jonathan Gold along with
Good Food's
Evan Kleiman and Nancy Zaslavsky, a Mole cookbook author (thanks Mr. Gold, for reprimanding me on that).
The Mole to be judged was...
Mole Negro
, taking its roots from the seven regions of Oaxaca, a motley brew of typically +30 ingredients, most of which have to be individually soaked beforehand then fried/toasted/pureed to create that notorious jet-black, smooth sheen.
The contestants were:
The ever so lovely
Bricia Lopez
of L.A's famous, family run
Guelaguetza
restaurante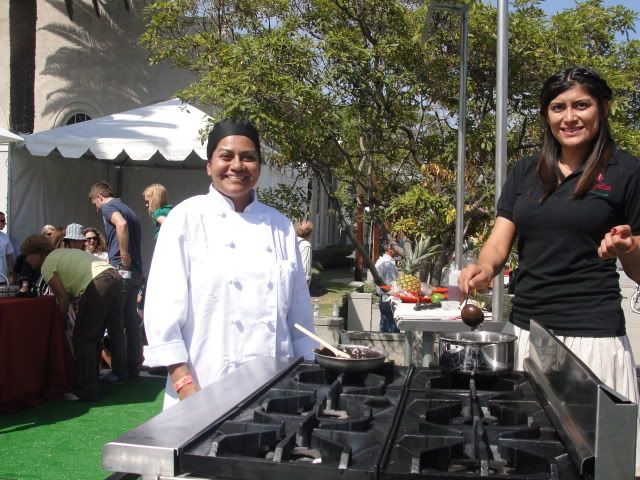 Hometown Hero, Rocio Camacho of
Moles La Tia
.
And last but certainly not least (
Jaime, Ramiro
?!)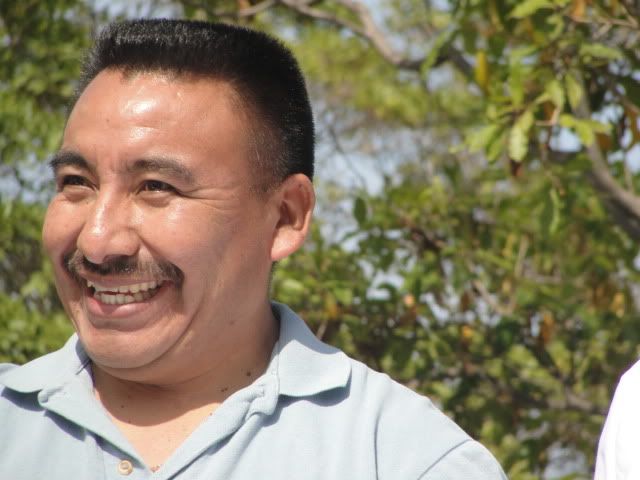 Tlapazola Grill
Pressure was on, especially for the Gold Guru, as he diligently displayed his Mole palate skills, right in front of our very eyes: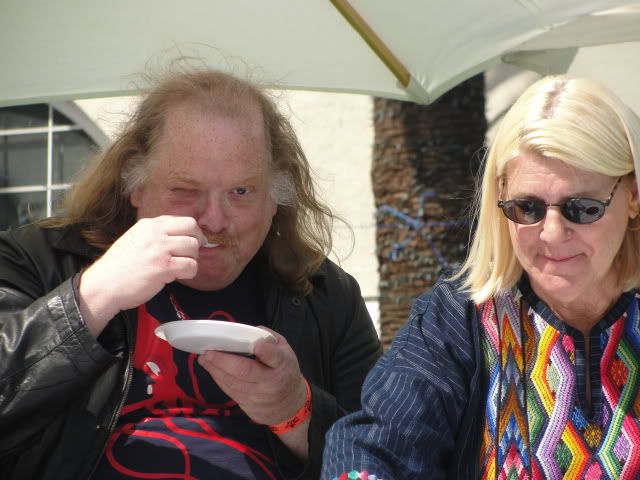 The master and his craft, I am not worthy!
Seriously though, to judge this--still--is like comparing apples to oranges, they are just too different, I bet each of the competitors come from a different region of Oaxaca to begin with. I would have to agree with the Gold Guru with his comment he made as he announced the spicy victor.
"This is one of the most hardest decisions I've ever had to make in my entire food profession life".
...Moles La Tia, I've personally have noticed that the people just love her pronounced signature, nonchalant deft hand with chiles.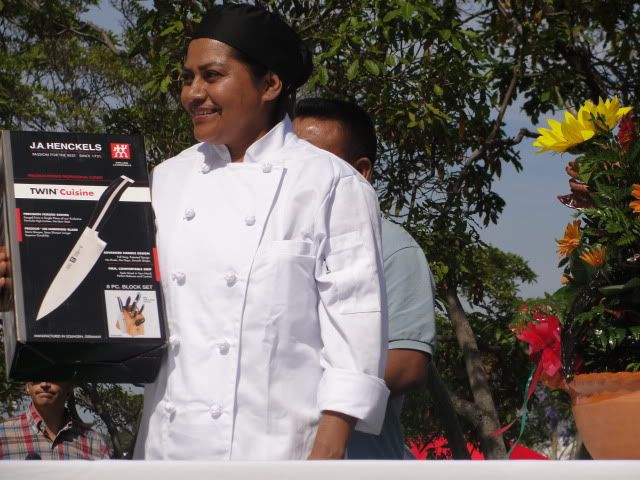 May she use that J.A Henckles knife set with reassuring pride, at least until the next challenger stands up...
As I walked out, greeting chef's and holding my metabolism to full regard, I contemplated the day's epic eating's and outcomes, while thinking of what I was going to have for breakfast the next day.
Until next year Taste of the Nation, until next year...